There has been a growing interest and consciousness for environmentally sustainable windsurfing equipment over the past few years due to the massive challenges our planet has with the increase of CO2 emissions and the shocking plastic pollution in our oceans.
Windsurfers have a natural respect for nature and the ocean and while any hobby or passion may affect the environment, we want to take our responsibility seriously and we are of course willing to do our best to limit our carbon emissions and waste.

One way to do it is by choosing eco-friendly brands, i.e. brands that are willing to make positive changes for the environment by limiting their carbon footprint and finding solutions that have a positive impact.
More and more surfing and windsurfing companies are taking their environmental responsibilities more seriously and aim at changing their production methods to contribute to a greener future.
In this article, we will talk in particular about environmentally friendly wetsuits. Wetsuits, which are primarily made from neoprene, are often criticized for their negative impact on the environment.
---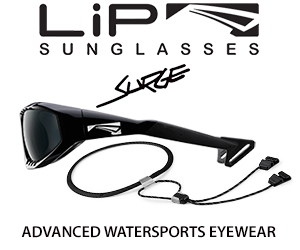 Sunglasses designed for watersports!
Use code WINDFOIL-NATION at checkout for 5% off.
Claim Discount
---
Neoprene is a strong, waterproof synthetic rubber material typically made from petroleum which means a large amount of carbon emissions involved in the process.
This is where Wildsuits comes in.
Wildsuits Wetsuits
Wildsuits, a relatively new wetsuit company based in the EU decided to do something about this problem. The founders Antoine and Olivier have looked at every aspect of the wetsuit industry and turned every stone to make the production more environmental friendly for surfers and windsurfers who want to go green.
A wetsuit is an accessory every windsurfer needs, not only to make surfing into colder water more comfortable but also for safety, as it prevents hypothermia in case you break something and have to spend a long time in the water. The problem is that most wetsuits are made of neoprene which is not biodegradable, and difficult to recycle.

Wildsuits' goal: offer high-quality and durable wetsuits with alternative production techniques that limits pollution. Their suppliers also commit to offer good conditions for their workers, and they have high standards when it comes to respecting the environment.
---
The ultimate board protector that doesn't get in the way.
View Today's Price
---
The team at Wildsuits also build solutions to encourage people to recycle their worn-out wetsuits.

Here is how Wildsuits is changing the wetsuit industry:

1. Eco-friendly neoprene:

To replace most of the petrochemicals contained in its neoprene, Wildsuits uses a neoprene extracted from limestone to limit its carbon footprint.

To further reduce its ecological impact, Wildsuits neoprene uses an "Eco Carbon Black" process. This technology replaces one of the main components of a wetsuit, the "carbon black pigment" with an alternative made of recycled rubber tires. This also helps to limit Wildsuits carbon footprint.

About 1.5 billion used tires are abandoned or burned each year, so by creating recycled neoprene, Wildsuits creates a high-quality product and gives a second life for used tires while at the same time limiting the pollution due to burned tires.


2. Solvent-free glue for a better environment

Traditional solvent-based glue is toxic and plays a part in the destruction of wildlife and ecosystems.
Wildsuits has found a solution by substituting the traditional glue for a new patented environmentally friendly technology: water-based lamination. The technology is constantly improving and this glue has the same functional properties as solvent-based glue, but with no harmful chemicals.
The wetsuit is just as strong on the seams, and about 600 grams with polluting solvent is saved for each Wildsuit wetsuit produced! This is reducing the environmental impact and contributes to a greener future.


3. Recycled polyester
A wide selection of the fabrics contained in the suits are knitted polyester yarns made from recycled plastic bottles. This helps to reduce both waste and material consumption at the same time. 45 recycled plastic bottles are used to produce each wetsuit.
4. Colors
Wildsuits are using "Dope dyed yarn", an environmentally friendly and efficient innovation in the dyeing process. Instead of the usual dyeing process, where the yarn is knitted first into a fabric, which is then dyed as a whole, they produce the colored yarns first which are then used to create the fabric.

No water is used during the dope dyeing process, saving 104 liters of water per kg of yarn. The amount of chemicals and carbon is also reduced.
5. Durability
Wildsuits has chosen, tested, and selected manufacturing techniques and products that are designed to be durable, resilient, and hardwearing, to increase the lifespan of the wetsuit.
6. Recycling system
Wetsuits suffer from wear and tear, and they usually are thrown away without any recycling systems available. Wildsuits aims to bring a second life to its wetsuits and avoid unnecessary waste, so they have put in place a system to recycle your old wetsuit.
These concepts of recycling, sharing, and solidarity are very important to Wildsuits:
When you return your old wetsuit to a Wildsuits distributor, you'll get a 15€ discount on your new Wildsuit wetsuit. Your old wetsuit is given to the "Surfeurs Solidaire Association" or to other companies making handcrafted objects out of them, to give your wetsuit a second life (PC covers, board protection, keyrings or bracelets).
Surfers Solidaires' mission is to help the local populations in Madagascar, Sierra Leone, Jamaica, the Philippines, Cape Verde, Morocco, and Nicaragua. By collecting used surfing equipment, Surfers Solidaires are able to dispatch substantial material aid. Over the past 15 years, Surfers Solidaires have built numerous surf clubs and associations in the countries they work alongside. They also provide significant pedagogical assistance to the existing local surf clubs and associations.
Interview with Olivier Boileau, Wildsuits' Co-founder.
Windfoil Zone: – Could you tell me what gave you the idea to create an eco-friendly wetsuit?
Olivier Boileau: I was tired of buying a new wetsuit every 6 months and spending a lot of money on a wetsuit that does not last long. When my friend and associate Antoine Pouvreau and I had the idea of making a wetsuit brand, it was important to make a wetsuit that lasts.
We worked a lot on the quality, construction, and development of the wetsuits. We quickly realized that there was an alternative to petroleum-based neoprenes and we really wanted to help the environment instead of being part of its destruction.
WZ: – What are you particularly proud of?
OB: What makes me proud is when I see people in the water wearing Wildsuits. I always go to speak with them and ask them what they think about the wetsuit. So far, I've only received positive feedback and I always ask them "What could be improved on the wetsuit?".
It makes me proud to see that our customers love what we do and its always a lot of fun when sometimes I tell them that I'm the co-founder of the brand. I am really happy to be close to the customers. As we often say in Wildsuits, we are a family!
WZ: Do you have any other projects in mind to make your products and your company even more sustainable?
OB: We already have our eco-friendly wetsuits and a recycling program for wetsuits, but we don't stop there. We also want to increase people's awareness of environmental issues. We are organizing some events, like beach cleaning with children at school to help them to understand why they must recycle and take care of the oceans.
WZ: Are your wetsuits designed for surfers only or do you think it works well for windsurfing/windfoiling as well?
OB: Wildsuits are not only designed for surfers! It's our background but since the beginning, we have focused on making a wetsuit that can be used by watermen of all kinds. With the help of our pro riders from many watersports (Waveski, Windsurf, Kitesurf, Bodysurf, Bodyboard, Paddle, and Surf) we created a wetsuit that answers all of their professional expectations and needs.
It was really a challenging job, but we did it! More than 50 different samples were necessary to finally validate the technology, material, and design of our current wetsuits.
Other Eco-Friendly Windsurfing Tips
Finally, here are some tips to help you become a greener windsurfer. This may sound like small contributions, but if every surfer or windsurfer takes some more responsibility, this will have a positive impact on the environment with very little extra effort.

1. Sustainable products
Windsurf equipment is often made with chemicals that leave a large carbon footprint. Look at producers that have a focus on sustainability, like Starboard for example, who invest in Mangrove trees to capture more CO2 emissions and make their production carbon neutral.

Another way to become a greener windsurfer is to keep your windsurf gear longer. To do so, you should invest in protective gear, which will help you to avoid breaking your board when you catapult next time!

2. Second-hand products
Do you need to buy new equipment? Windsurf boards are difficult to recycle, so you may consider buying second-hand boards instead, to prolong the life of each and every board.

If you need to upgrade your board to be foil-ready, you can also consider changing the fin box to a reinforced one, converting your old freeride board into a great foil board.

3. Clean the beach while waiting for the wind!
Always pack a pair of gloves and a bag together with your quiver bag, so you are ready to make an improvised beach clean-up before the wind picks up.

4. Check out your sunscreen!
Many contain ingredients that are toxic to sea life and the marine environment. However it's difficult to know if your sunscreen is toxic for marine life or not, it's not written on the packaging!
However, here is a list of ingredients that should be avoided: Oxybenzone, octinoxate, petrolatum, mineral oil, Titanium Dioxide.
Do you any other tips to help windsurfers become greener?
Please leave a comment below!