| | | | | |
| --- | --- | --- | --- | --- |
| #1 Pick | #2 Pick | #3 Pick | #4 Pick | #5 Pick |
| | | | | |
| | | | | |
Buying an eFoil is a big investment. An efoil can cost as much as a used car, so it's something you want to get right! An eFoil is a lot more fun than any car at the same price though, so I encourage you to keep reading to see our top picks for the best eFoils to buy in 2022.
Criteria for Choosing Which eFoil to Buy
When choosing an eFoil there are a few attributes you're going to want to look at when comparing which to go with. Here's a breakdown of the main features we'll look at to compare all of the products.
The Board
The board and hydrofoil are going to control how the board rides, how it feels, how stable it is, and more. It's the most important factor to consider other than price.
Let's start with the eFoil board itself. Volume is the measurement of how much water the board would displace if it were submerged in a tank of water. It's effectively the measurement of the Width x Length x Height of the board.
A board with a higher volume is going to be more stable, especially at low speeds or when standing still in the water before it's up on the foil. The key number to look at here is the "volume" of the board, usually measured in Liters (110 L, 120 L, etc).
Heavier people will need a board with more volume in order for it to be stable and buoyant enough to operate before the board gets up to speed up on the foil.
You might prefer a board with less volume if you're looking for the most speed/maneuverability and a lighter weight foil. It will also be easier to transport given the less space it takes up.
The Hydrofoil
The hydrofoil that attaches to the board is going to control how easily the board lifts out of the water, the top speed, the ability to turn while foiling, and basically all of the flight characteristics.
The nice thing about hydrofoils is most of the parts are interchangeable, so you can swap out different components over time for a different feel. The most important part of the foil in terms of the ride characteristics is the front wing.
A front wing with a larger area, as measured by centimeters squared (cm2), generally provides earlier lift out of the water at lower speeds and more stability while foiling. A smaller wing will be less stable but usually allows for greater top speed and the ability to whip turns more aggressively (if you can maintain balance).
The mast is another key feature of the foil. The mast impacts the distance between the wings and the board itself and thus how high you can fly over the water while keeping the wing submerged.
If you plan on riding your efoil in mostly flat waters, then a shorter mast will do just fine (around 60-70cm). This will be lighter weight and you will be able to ride in more shallow waters.
If you plan on riding mostly in the ocean or lakes with a lot of waves/chop, then a taller mast might do you good (80-90cm). This will allow you more room to ride over the chop without your board hitting the water or your foil wings leaving the water.
Battery and Power
eFoils are powered by electric propellers which get their energy from large batteries built into the board itself. The important features to look at here are
riding range (usually given in miles/kilometers)
top speed (also will vary based on foil)
battery life/ride time
is the battery swappable? (important if you have a faulty battery or if you want to swap between 2 batteries so you can still ride while one charges)
One important thing to note in all of this is that heaver riders are going to get worse performance when it comes to riding range, ride time, and stop speed. Simply put, it takes less energy to move around a lighter person than a heavier one.
The Best eFoils to Buy
Now that we know which features are important to look at when buying an efoil, let's look at our list of the best efoils on the market.
Price: ~$12,495
Warranty: 2 Years
Models (Volume): Fliteboard (100L), Pro (67L), Ultra (54L), Air – Inflatable(150L)
Mast: 60cm or 75cm
Foil Wings: 10 options available depending on skill and riding style
Battery: Two options – "Sport" (Ride Time 60 minutes), "Explore" (Ride Time 90 minutes)
Top Speed: Anywhere from 20-40km/h (12-25 mph)
When a product is designed by a kitesurfing world record holder (Dave Trewern), and he cites his influences as Porsche, Apple, and Tesla, you can be pretty sure it's going to be sharp and well made.
Fliteboard is one of the industry leaders in efoils at this stage and they've recently released their "Series 2" of eFoils. One thing that is setting the Series 2 apart from a lot of competitors is the variety of options they have when it comes time to configure the board.
To start with, their most popular and "middle of the road" option is the Fliteboard model. It's 100 L, 5'8″ long and 28″ wide. This is a good all-around board that fits any style of riding. It comes in 5 different finishes.
After the Fliteboard, we have the Pro (67L, 5′ x 24.5″) and Ultra (54L, 4'2″ x 23″). These are aimed at the more "extreme" advanced riders that want the most responsive and lightweight eFoil riding. Given the low volume, you're going to need good balance to get started.
The Ultra is actually the smallest eFoil on the market.
The Air is an inflatable eFoil board which is also pretty unique and exciting to see. It's a very large and stable board at 150L and 6′ x 30″, so it's great for beginners, surfshop rentals, yacht toys, etc. It's also nice that it packs down for transportation and storage.
When it comes to Fliteboard batteries, they offer two different models. The "Sport" battery is standard and will give about 60 minutes run time. For $400 more at checkout, you can upgrade to the "Explore" battery, which offers 90 minutes of run time.
If you wanted to buy a spare battery, the Sport will run you $3000 and the Explore is $3400 on their own.
Price: $12,000
Warranty: 1 year board, 2 years foil/wing, 1 year battery
Models (Volume): Pro, Sport, Cruiser, Explorer (Volumes not given)
Mast: 28 inch / 71cm
Foil Wings: Classic (three options) or Surf
Battery: 60 to 90 minutes ride time and 120 minutes recharge
Top Speed: 40km/h (25 mph)
Without sounding too much like a fanboy, Laird Hamilton rides the Lift eFoils. Enough said!
All Lift eFoils are $12,000 and don't offer quite as many customization options compared to Fliteboard, which can be a good thing if you're an intimidated beginner.
Lift eFoil boards come in 4 sizes – Pro (4'4″ long), Sport (5'0″), Cruise (5'6″) and Explorer (6'2″). As the names suggest, the bigger boards will give you a more beginner friendly ride and better stability, whereas the shorter boards will let you be more aggressive with your turns and how you want to ride it.
For the foil wings, Lift offers a variety of options under two categories – "classic" and "surf". The Classic wings are one-piece, meaning the front wing, fuselage, and rear wing cannot be disconnected or swapped around. The Surf line is newer for 2022 and it's more of a mid-aspect wing than the classic, meaning it's a bit wider. This should offer riders more stability once they're up and going.
Price: Starts at $6875 – $8000
Warranty: 1 Year
Models (Volume): Carbon 65L, Inflatable 110L and 145L
Mast: 65cm and 80cm
Mast: 65cm, 75cm, 80cm
Front Wing: 1600cm2 Carbon
Battery: Up to 90minute ride time with 40km range
Top Speed: 40km/h (25 mph)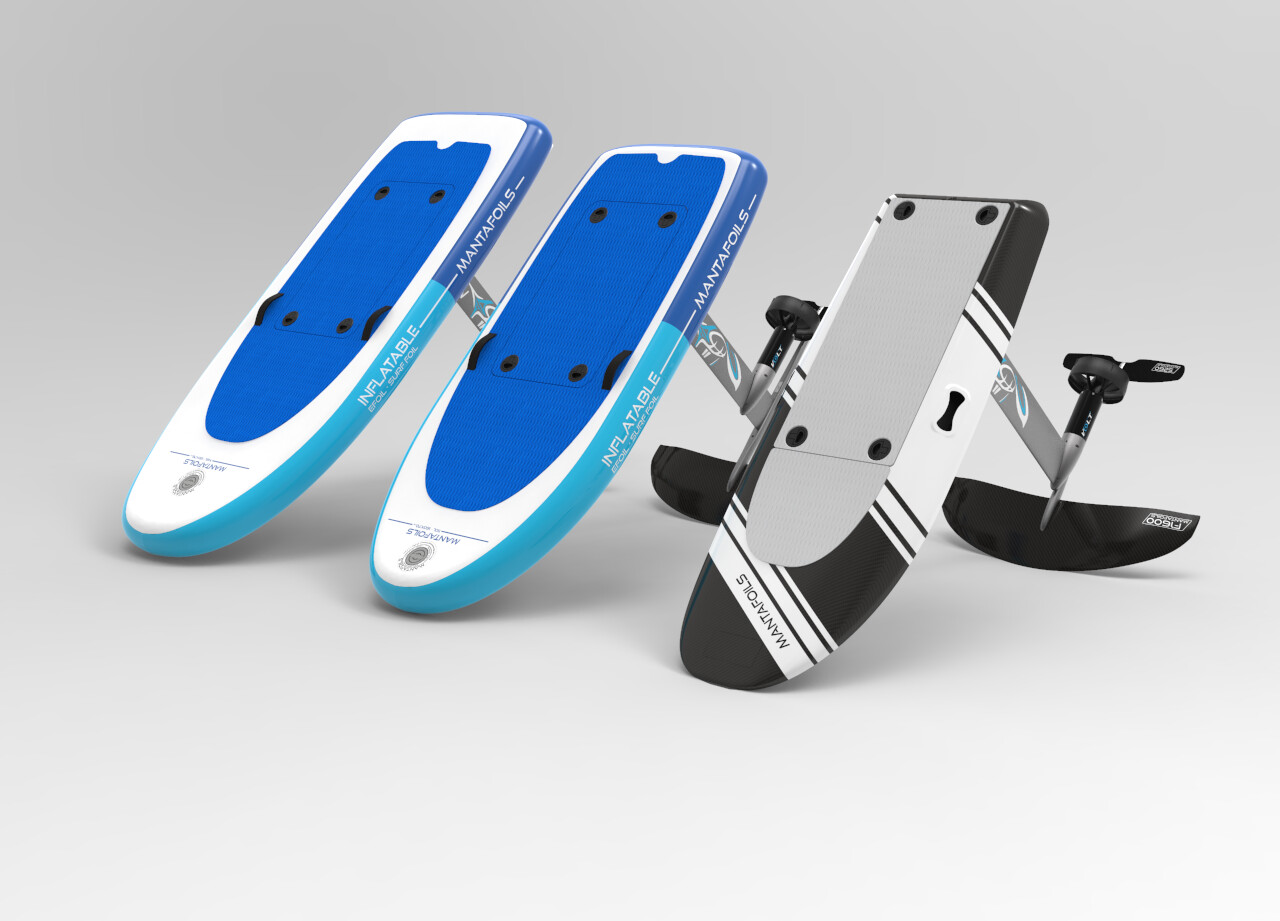 The Mantafoils Volt is a more affordable option than the first two eFoils on our list. These ship direct from China, so they cut out some of the middlemen and deliver what's probably the best value in eFoils for someone without $12k to spend.
Mantafoils offers a carbon board with 65L volume that's for more advanced/sporty riders, as well as two different inflatable sizes. The 110L is a good option if you're looking for something to start out on but still won't outgrow.
Perhaps the most interesting thing about Mantafoils is what they're doing with their masts/propellers, though. If you get the Volt Starter mast, you can remove the e-propeller, disconnect the battery, and use the board as regard wing foiling board.
Also just as interesting is their Volt Pro mast, which uses the propeller as the fuselage!
I would be wary of going with the Volt Pro unless you're experienced as a rider. You really don't want to bang that propeller up against some rocks and damage it. You also lose the ability to use the setup as a regular, non-electronic foil with the Pro setup.
Price: $4,999 – $7,999
Warranty: 1 Year
Models:  Standard, Long Range, Performance
Mast:  n/a
Foil: n/a
Battery:  2.6kwh phase changing. Up to 90minutes ride time. Up to 29km (~20 miles) range. 120minute charge time
Top Speed: 45km/h (22-28 mph depending on model)
"Foil" is a new company with a pretty slick website and a great-looking product. Foil only offers one board, and no different options for foil wings. They do offer 5 different colors, though.
The only decision in buying a Foil is what kind of motor you want. The Standard and Long Range have a 7.5 MPH motor whereas the Performance model has a 9 HP motor which will take your top speed from 22 MPH to 28 MPH.
Foil promises slightly higher top speeds than other brands, and works for riders up to ~250 lbs.
Foil is also on the more affordable range of products. Currently, you get a $1,000 discount when you pre-order, but the boards are still backordered at least 4 months out at time of writing. $6,999 will get you the Performance model if you preorder.
This looks like a great brand for beginners that don't want to invest too much money and really aren't that interested in customizing your foil or getting too much into the technicalities of eFoiling.
Vefoil
Price: Price not yet released
Warranty: 1 Year (extendable)
Volume: 191 L
Mast: 71cm
Front Wing: Veflow Foil, 84cm wide (surface size not given)
Battery: Vecell Lithium. 40-50minutes of ride time
Top Speed: 32km/h (20 mph)
We are really excited by the prospect of the VeFoil. The boards look beautiful with gloss finish options and funky designs, while Vefoil says that their propulsion system offers unrivaled performance and safety.
The unique thing about the VeFoil is the propulsion unit. If you look at the photo above you'll see no propeller. Instead, this board uses an impeller which is fully enclosed.
This has some benefits and drawbacks. The drawbacks are this isn't as powerful as an external propeller which can get you going at faster speeds and are probably a bit more efficient.
The benefits are that no exposed propeller is much safer for everyone and it has less moving parts which means less likely to have maintenance issues. VeConcepts also says you can close the throttle while riding a wave and still get a good ride, whereas the drag from a propeller stopping would quickly kill your speed.
Currently only one setup seems to be available, but they hint at having other front wing options in the future would could increase speed.
We'll have to follow up with more details once this company gets their production running.
Summary
The invention of the eFoil has opened up a whole new world of water sports. These incredible products allow you to foil absolutely anywhere, at any time, on the ocean, lake, or even river.
The eFoils on this list are an insight into the very best that you can buy in 2022, and we hope this article has given you an insight into the incredible new sport of eFoiling.