There are numerous benefits to having video footage of your wind or wing surfing. Of course, you want to have your epic clips to share with your friends on Facebook and Instagram, but video footage can also help you visualize your faults, so you can learn at a more rapid rate. A GoPro is one of the best ways to videotape yourself without needing a friend on the beach or outrageously expensive equipment. Here, you'll find the best GoPro setups for windsurfing, wingfoiling, and wing surfing. 
Choosing a GoPro
GoPro was founded in 2002, and dozens of models have been released since the original. This can make choosing the best GoPro for your wind or wing surfing a bit confusing. We suggest choosing one of the newest models, as they continuously advance, and the latest features are unbeatable. There are two models of the GoPro that are currently standing out against the rest, the GoPro MAX 360 and the GoPro Hero 8 Black. 
GoPro MAX 360 
The GoPro MAX 360 is the most intelligent GoPro model to date. It includes cameras on the front and back of the GoPro, which allows you to choose the field of view you prefer to work with. Its entirely waterproof, so it is ideal for all water sports, like windsurfing, wingfoiling, and wing surfing. This GoPro is known for being three cameras in one with its traditional GoPro Hero video footage, photos, and 360-degree filming capabilities. 
The GoPro MAX 360 also allows live streaming in 1080p, so you can immediately share your footage with your audience. Horizon leveling offers a cinematic look that will impress your friends even if you're not an expert videographer. The Max TimeWarp feature is one more that pushes this GoPro above the rest. You can easily capture time-lapse videos that are incredibly stabilized, and you can slow them down to real time. This GoPro will definitely surpass your expectations. 
GoPro HERO8 Black
The GoPro HERO8 Black is another impressive personal camera. It does not offer the 360-degree capabilities of other cameras, but it provides incredibly clear and stable photos. Even better, this GoPro features a streamlined design that can fit in your pocket. It's an ideal camera for windsurfing, wingfoiling, and wing surfing, because you can take it absolutely anywhere and hardly know it's there.
---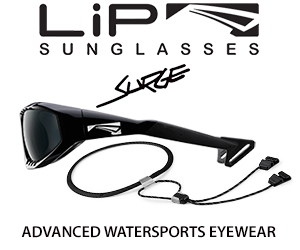 Sunglasses designed for watersports!
Use code WINDFOIL-NATION at checkout for 5% off.
Claim Discount
---
Like the GoPro MAX 360, you can use this camera to live stream in 1080p and capture the most stabilized time-lapse videos. Ultra slow motion capabilities make for epic footage, and this camera can film with a field of view as wide as 122.6 degrees. Videos are taken in 4K UHD 2160p, so your friends will be convinced you had a professional videographer in the water with you.
GoPro Mounts for Wing and Wind Surfing/Foiling
GoPro cameras are undeniably impressive, but putting one in the correct location on your board or body can make for incredible footage. A proper mount can be the difference between epic footage and video solely of your feet or the water in front of you. The following are our favorite mounts for windsurfing, wingfoiling, and wing surfing.
FlyMount Original
Flymount Original – GoPro mount
The FlyMount is specifically designed for windsurfing, wing surfing, and wingfoiling. It attaches to the boom or mast of your wing or sail and is incredibly durable. It won't detach even in the highest wind or waves.
This mount can also be used for others sports, as it can be attached to nearly any bar. The FlyMount can result in some of the most impressing wing and windsurfing photos.
Flymount Aero
Coming soon, Flymount is releasing a new mount specially designed to clip onto inflatable wings. Flymount isn't yet taking orders, but we'll be soon to give an update when they are!
Clew-View
The Clew-View is one of the most specialized mounts for windsurfing, which means it also works incredibly well for wing surfing. Mount this GoPro at the rear center of the boom, and you'll have impressive center-view footage. The only disadvantage we've found with the Clew-View is that this mount costs more than $100. However, avid windsurfers will be stoked on the videos they receive. 
Harness Mount
Harness Mounts are an excellent option for all board sports. Windsurfers, wing surfers, and wingfoilers have the option of purchasing the 3rdPersonView kite and windsurf all-in-one mount, which is specifically designed for water sports with kites or sails. This mount attaches to the waist harness, and depending on the GoPro extension you use, it can provide unbeatable footage that looks like you always have a cameraman by your side. Like the Clew-View mount, the 3rdPersonView kite and windsurf mount runs around $100, so it may not be suitable for all budgets. 
Board Mount
A GoPro camera board mount is one of the more affordable options for windsurfing, wingfoiling, and other water-based board sports. This mount securely attaches to your board, providing video footage of yourself or your surroundings, depending on the angle you choose for the camera. It's a mount that has been used by surfers since the early models of the GoPro, and it continues to be as effective as it was in the beginning. 
The Best Mount Option for Wingfoiling 
Wingfoiling is one of the world's newest water sports. However, wingfoilers have already mastered capturing GoPro footage while wing foiling. Experts suggest using the GoPro MAX 360 for its 360-degree field of view with the whole board, your body, and the wing in view. The best way to get this footage is with a GoPro pole, which can be purchased from GoPro or easily created from any PVC pole purchased at a hardware store. Simply mount the pole to your board, and you'll be blown away by the 360-degree footage you receive. 
A GoPro can offer photos and video footage that impresses your friends, but it can also help you advance your windsurfing, wingfoiling and wing surfing abilities. You can't go wrong by purchasing the GoPro MAX 360 or the latest GoPro HERO8 Black, as both models provide innovative features and unbeatable clarity in a compact size that can fit in your pocket. Simply choose the mounts that work best for you and your equipment, and start filming your sessions.