We all like to think we're invincible out on the water, but the truth is big spills happen to all of us, even the pros. When you're pushing the limits to become a better rider, it's easy to cross that line and end up wiping out in fantastic fashion.
Let me tell you why I love impact vests. They make you a better athlete, faster.
Whether you're foiling, kiting, wakeboarding, surfing, or any other water sport, progress is made when you try new skills. With an impact vest on, you're going to grow your skills faster because you'll be willing to take bigger risks knowing you have a bit of protection.
The Pros and Cons of Impact Vests
It's important to remember that impact vests (also called "comp vests" or "competition vests") are not the same thing as a life jacket. They usually are not Coast Guard Approved (NCGA) for being sufficiently buoyant.
The goal of an impact vest is to provide you some protection in crashes, not necessarily keep you afloat with no assistance or effort (though impact vests do typically give some additional buoyancy).
---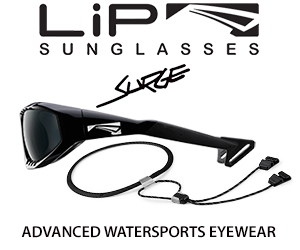 Sunglasses designed for watersports!
Use code WINDFOIL-NATION at checkout for 5% off.
Claim Discount
---
The advantage of impact vests is they are much less bulky than life jackets to the point where they won't get in your way or interfere with your performance on the water. They fit on pretty tight and snug, and once you're on the water you forget all about that.
An impact vest will protect your chest and offer a safer ride. They protect your ribs wether you're hitting the water hard or falling on some hard object which could be the difference between laughing off your fall and being off the water for weeks with a broken rib.
Most impact vests are made of neoprene which means they'll also give you extra warmth when you're on the water which is a nice bonus.
How to Choose an Impact Vest
Impact vests today offer now very nice designs with improved comfort and mobility compared to life vests of the past. There are also vests designed specifically for women to fit better which means better protection.
I'll present my picks for the best impact vests for water sports relying on the 4 key features you should keep in mind:
1. Harness compatibility: If you're doing a sport like windsurfing or kiteboarding where you'll be wearing a harness, you want to make sure the impact vest doesn't interfer.
2. Mobility: Many people claim that the biggest drawback of an impact vest is the restrictive movement. This is still the case, even if most brands have now developed vests that are thin and offer more flexibility than before. Flexibility is a key feature.
3. Durability: You will most probably change your impact vest every year, and you will be therefore looking for a vest of high quality, which will tackle hard use on the water and long Winters in the garage.
4. Weight: You'll probably want a lightweight vest so you don't feel weighed down while riding.
Many brands offer quality impact vests. I personally use the NP Rise Impact Vest, and that's the reason why I am able to recommend that one. Here are however a list of trusted brands which could be relevant alternatives for you.
The Best Impact Vests for Water Sports
O'Neill Slasher Comp Vest
If you want protection, O'Neill really brings it with the Slasher comp vest. Part of the reason this is my top recommendation is their Nytrolite foam, which is an exclusive process only they have.
Nytrolite is a Low Density Polyethylene which is expanded using Nitrogen.
The end result – 3 times lighter than PVC foam which many other impact vests use. The Nytrolite foam structure absorbs 15-20% less water making it more lightweight and faster drying. It's also ~10% more buoyant than the same weight of PVC foam which means they can use less foam in each vest and it will still float the same.
It has all the other things you'd expect from a top impact vest like anatomically designed seams and a zipper-lock. It's the best selling impact vest for a reason.
Sale
O'Neill Wetsuits Men's Slasher Comp Life Vest, Black, Medium
Not Approved By the U.S. Coast Guard, Vest Is For Competition Waterskiing and Wakeboarding
NytroLite Foam: 3x Lighter, 10% More Buoyant, and Absorbs 15-20% Less Water Than Regular PVC Foam
Segmented Foam Core And Anatomical Flex Points Enable Unrestricted Movement
Front-Zip Design Allows Easy Exit And Entry. Weight(kgs) - 70-77, Chest(inches) - 38.9-40.9
Snug Fit For The Performance-Oriented Wakeboarder Or Waterskier Looking For A Life Vest Which Won't Move During High Impact
Mystic Watersports Star Impact Vest
The Mystic Star Side Zip Impact vest is very flexible and has easy entry with a side zipper. It also has built in support for waist harnesses so it's good to ride with no matter your set up.
The material they use is M-Flex 75% neoprene which is nice and flexible.
Key features:
Light and flexible neoprene. The liner is cross weaved for maximum durability.
Harness fit: the area around the waist is only neoprene without padding. This allows your harness to fit tight against your body. Having only neoprene along the waist also makes it easier to put on and take off.
Harness position print – helps to maintain the harness in position
YKK side zip – easy entry
Anatomical Fit – The flexible foam padding is positioned around the chest, back, and all-around your rib cage for great protection.
Thick segmented foam core – The foam sections are shaped to fit with the way your body flexes so there is no restriction of movement.
Slim fit – The tight fit keeps your body compressed to minimize damage on impacts
Oversized armholes – gives you maximum movement
Liquid Force Ghost Impact Vest
Liquid Force is one of the leaders in this space and every year they're improving their comp vests. They've added more panels to break up their foam more so it fits the body better.
Large armholes and a tapered waist give you the tight, "don't know it's there" feeling you're after in an impact vest.
Liquid Force 2020 Ghost (Blue/Heather) Comp Vest-XLarge
Stitch-Less Flex Panel Architecture… Liquid Force Exclusive Bio-Spline 3D Curve… Liquid Force Exclusive PVX Is Their Best Lightweight, Soft, Stretchable And Flexible Impact Foam V-Flex Shoulder Pattern… Liquid Force Exclusive Flex-Span Neoprene Fits Like A Second Skin Chill Stopper Lined Chest Panels And Stretch-Light Lining Advanced 44-Panel Flex-Architecture Design Tapered Waist And Wide Arm Openings Easy Access Front Zipper Designed For Impact Protection Danger: NOT A US
Radar Impact Vest
Radar is mainly a waterskiing brand, so this jacket doesn't have considerations for a waist harness but I think it's pretty cool looking and probably the most comfortable impact vest I've seen.
It's fleece lined! Talk about comfort!
Sale
Radar Drifter Impact Vest, Battleship Blue, Medium
The Driver Impact Vest - The Drifter is our minimalist vest, so light it almost floats away, and so comfy you'll forget you have it on.
Features - Constructed with lightweight foam and tailored fit with a 4-way stretch for increased mobility. Fleece lined; Non-Coast Guard approved.
Vest Technology - Whether you are wearing a Coast Guard Approved, CE Approved, or our impact jackets, we want to ensure you have something that fits you correctly. By utilizing premium materials and thought out cut lines we have created vests that bend and flex with you, resulting in a better experience on the water.
Tailored Fit - We design our vests to fit better by building them around a body form. This ensures that you get a snug, comfortable fit so you can think less about adjusting your vest and more about skiing. The segmentation we choose in each vest is purposeful to enhance movement on a ski. Allowing a skier to move through a run is at our forefront when choosing cut lines.
Radar Waterskis - Radar was founded and led by skiers who have instilled in us the passion to push beyond the norm and make better products. This passion fuels our desire to innovate and create. It means early mornings and late nights, red eye flights followed by dawn sessions, lead us to conversations that flow to progression.
Women's Impact Vests
When it comes to tight-fitting impact vests, a woman is going to need a different design from a man for optimal comfort and protection. Here are my top picks for women's impact vests.
Ronix Coral Impact Vest
The Ronix Coral impact vest features oversized arm holes, 4 way flex foam, and a tailored but not tapered fit that will fit your body like a glove.
O'Neill Women's Slasher Comp Vest
O'Neill also makes their Slasher impact vest in a women's cut and it uses the same great NytroLite foam with all the benefits highlighted earlier in the men's model.
One nice thing about the O'Neill vests is instead of having generic "small, medium, large" sizing, they have standard women's sizing (4, 6, 8, 10, 12).
Sale
O'Neill Women's Slasher Comp Vest, Black/Black, 6
Not Approved By the U.S. Coast Guard, Vest Is For Competition Waterskiing and Wakeboarding
NytroLite Foam: 3x Lighter, 10% More Buoyant, and Absorbs 15-20% Less Water Than Regular PVC Foam
Segmented Foam Core And Anatomical Flex Points Enable Unrestricted Movement
Front-Zip Design Allows Easy Exit And Entry
Do I Need an Impact Vest for Windfoiling?
Foil windsurfing is not a dangerous sport, however wearing adequate protective gear may prevent you from nasty injuries. While wearing a helmet has become more and more common to protect the head, investing in an impact vest has not been a priority for windsurfers yet.
That may be the reason why the vests are often marketed as "kiteboarding vest", however they also work perfectly for windsurfing as well. We highly recommend protecting your ribs and organs with an impact vest when foil windsurfing, as apart from your head, most of the important organs in your body are contained behind your rib cage.
You will experience many falls when making your first steps on a windfoil, Most of them will happen at low speed and without consequences. However, you may experience more painful catapults landing on the board, the rig or worst case on the foil. When getting more confidence, there will be fewer but harder crashes due to the increased speed. This may cause serious injuries.