When you begin paddle boarding, you'll soon realize that one of the trickiest things is transporting the board from home to water. And unless you're lucky enough to live in your own lake house with a private dock, the chances are that will require you to load your paddle board onto your vehicle. And the easiest way to do that is by using a paddle board roof rack. 
There are plenty of them available, and they come in a range of shapes, styles, and prices, which can be confusing when you're starting out. So we've put together this guide to the best paddle board roof racks on the market. Plus some info about why you need one and what to look for when choosing the right rack. 
Reasons You Should Get a Paddle Board Roof Rack
First off, do you really need a roof rack? Well, there are some makeshift ways you can transport a SUP board on your car without a roof rack, including:
Tying the board straight to the roof of the vehicle.
Fashioning a roof rack out of foam, pool noodles, rope, or bungee cords.
Putting the board into the car and driving with the trunk open. 
But these options are not ideal and can lead to:
Damage to your car and board. An improperly tied board will rub and bang against your vehicle, while metal buckles, ratchets, or bungee ties can easily scratch, scrape or ding your paintwork and gear. 
Loss or damage of your board. High winds can easily catch and dislodge an improperly tied board when driving. You risk it flying off the vehicle and becoming damaged, broken, or lost beside a highway. 
Liability. If your board comes loose when you're driving and causes an accident, you will be responsible for any damages to people or property. 
Being pulled over for unsafe driving. 
So don't risk it. Paddle boards are expensive, and you should treat them with respect. Investing in a paddle board roof rack makes the whole process safer. It's easier too, and anything that makes getting your board to the water as quickly and simply as possible is a great idea!
---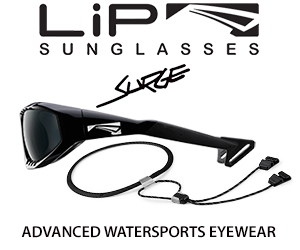 Sunglasses designed for watersports!
Use code WINDFOIL-NATION at checkout for 5% off.
Claim Discount
---
Important Paddle Board Roof Rack Features
When you're looking to purchase the best SUP board roof rack, there are a few things you need to consider.
Carrying capacity – what is the maximum number of boards, weight, and length the rack can carry? 
Versatility – is the roof rack for stand up paddle boards only, or is it suitable for kayaks and surfboards and non sport-related equipment too?
Usability – how easily does the rack mount and remove from your vehicle? Is it simple to secure your board to it?
Security – can you lock your board to the rack?
Accessories – does the rack need other equipment to work, such as a crossbar or rails on your vehicle or additional padding or straps?
Material – is the rack made of lightweight, durable materials that won't rust, corrode, or break down? 
Price – we know paddle boarding isn't cheap. Luckily, there are roof rack options available for most budgets. 
We've considered all these elements while making our list of the six best paddle board roof racks. 
The 5 Best Paddle Board Roof Racks 
#1 HandiRack – The Original Inflatable Soft Roof Rack.
The HandiRack Inflatable Soft Roof Rack by HandiWorld is a super versatile, lightweight, portable, and easy to use rack. It has been a consumer favorite since its arrival in 2006. The inflatable design means no bulky rails or rods, and it's soft and malleable enough to cushion both your board and the vehicle. Its versatility, ability to fit most vehicles, and the ease with which it goes on and off, make it an excellent rack for multi-sport, multi-vehicle households. When you're not using it, simply deflate it, roll it up, tuck it into its handy storage bag and sling it in the back of the car, ready for your next adventure. 
Pros
Versatile, it can carry kayaks, canoes, surfboards, skis, snowboards, and SUPs.
Can be used outside of sports to transport luggage, furniture, ladders, etc. 
Has a capacity of up to 175 lbs (80kgs)
Packs down small. Is easy to transport and weighs only 6lbs (2.7kgs).
Easy and quick to fit. Each bar inflates in about 30 seconds, and the rack takes around 5 minutes to attach to the car with no tools required.
Does not require a vehicle to have rails or crossbars. 
Fits most hard top vehicles, including those with crossbars rails or sunroofs.
Durable materials. 
Bespoke buckles grip straps tightly and do not lose tension during long journeys. 
Pump, tie-down straps, and bow and stern lines included.
At $89.95, it's a great roof rack at a mid-range price.
Cons
Not suitable for soft-top vehicles 
Not suitable for vehicles with side curtain airbags
Doesn't lock to the vehicle or boards.
Some reviewers comment that the rack allows water into the vehicle. The rack attaches to the car by straps passing through the doors and fastening internally. This can cause leaks through the doors when it rains. 
Best for versatility, ease of use, and small storage on a midrange budget.
#2 INNO Racks Locking Surfboard Roof Rack
The INNO Racks Locking Surfboard Roof Rack is perfect for people who like to stop off for a bite before heading home after a SUP session. With this board rack's secure locking system, you can walk away from your vehicle, knowing your boards will still be there when you get back. 
The inno-vative people of INNO, have been in the industry for over thirty years, and this experience shows in the thoughtful design of this paddle board roof rack. Features like the floating straps that make it easy to slide the board in were clearly created by someone used to the frustration of trickier designs. The soft rubber cushions and rubber-covered steel straps protect your board from scratches and scuffs. And the materials are resistant to the corrosion of salt water, perfect for surfers and ocean paddlers. 
Pros
Easy to use and installs in less than 15 minutes
Can carry two longboards (or three short surfboards)
Soft rubber cushions and rubber-covered steel straps protect boards while holding them securely.
Materials are durable and anti-saltwater corrosion.
Secure ratcheting system holds boards firmly in place in transit. 
Floating straps make for easy loading. 
Features a universal mounting system that can attach to most factory crossbars.
Lightweight at 8lbs (3.6kgs)
Secure. Lock boards safety away and comes with two keys. 
Cons
Needs your vehicle to have crossbars to work
Requires adapters for some shapes and sizes of crossbars. 
Not versatile beyond SUP or Surfboards.
At $197.95, it's not the cheapest SUP board roof rack on our list. 
Best for security.
#3 IKURAM J-Style folding kayak rack
The IKURAM J-Style folding kayak rack might look complicated but give it a go, and you'll find it's much simpler than it seems. 
The J-Cradle is primarily designed to carry two kayaks at once. But those cradles can be moved through 180 degrees to provide options for transporting gear of different sizes and shapes. That makes this rack a great choice for multi-sport households. 
It's also an excellent choice for durability. The extra-thick rubber padding and anti-corrosive aluminum mean you can use this rack year after year without needing to replace or upgrade it. That's not just good for the environment but your wallet too. 
Pros
Versatile, can carry SUP boards, canoes, kayaks, surfboards, snowboards, and skis.
Capacity – 2 kayaks or SUP Boards up to 158lbs (72kg)
The J-Cradle system can be moved and locked into different positions to accommodate a variety of boards and boats. 
Made from high quality, durable materials: lightweight aluminum and all-weather rubber is water and corrosion-proof and designed to last year after year. 
Oversized padding ensures your board or kayak is well protected from bumps and scratches.
Includes bow and stern lines and tie-down straps.
Includes paddle holders
Fits most square and oval factory crossbars. 
Cons
Requires crossbars to fit. 
Fiddly to assemble.
Bulky – it's the largest roof rack on our list and will take up the most storage space. 
Heavier than the other racks on our list at 20lbs (9kg).
Does not lock.
Several reviewers complain that the provided instructions are not clear enough. We'd recommend looking online or watching instructional videos if you get stuck. 
#4 WOOWAVE Kayak Roof Rack Pads 
The Woowave Roof Rack is the second soft paddle board roof rack on our list. But this one is made of foam padding, which does not need inflating but is ready to go when you are. Lightweight and easy to use, this rack is perfect for anyone who doesn't want to waste a second of the day struggling with complicated frames or tools. Simply grab the Woowave rack in its handy storage bag. Then sling the pads on the roof, secure the straps, tie down your boards, and away you go. 
Like the Handirack, versatility is key here. This rack can fit any hardtop vehicle with or without cross rails and can carry any water sports board, kayak, canoe, skis, snowboard, luggage, or indeed anything you need to transport on your roof – up to a capacity of 90lbs (41kg).
Pros 
Lightweight, only 3.3lbs (1.5kgs)
Durable. Made from EPE foam covered in hard-wearing UV-resistant Nylon. Straps are waterproof and long-lasting. 
Easy and quick. Installs and removes in minutes with no tools required.
Does not require the vehicle to have rails or crossbars. 
Fits most hard top vehicles, including those with crossbars, rails, or sunroofs.
Comes with tie-down straps and storage bag.
Can carry all manner of watersports boards, kayaks, canoes, snow sports equipment.
Can be used for items other than sports equipment, luggage, ladders etc. 
Budget-friendly at $54.99
Cons
Not suitable for soft-top vehicles
Not suitable for vehicles with side curtain airbags
Does not lock.
Like the Handirack, this rack is attached via straps passing under the roof into the vehicle. This can lead to leaks through the doors when it rains. 
Customers complain about the lack of instructions included with the product. Again we recommend looking online or watching instructional videos. 
Best for speed, versatility, and budget. 
#5 Thule WingBar Edge Complete All-in-One Racks
Thule are at the top of their game when it comes to roof racks and accessories. And they do have a lot of accessories. Because instead of a one-size-fits-all roof rack, Thule individually creates racks for specific boards, cases, and sports equipment. 
So the Thule 959520 WingBar is only the beginning of your dream roof rack. It is the crossbars you mount on your vehicle to make a roof rack. Then to secure boards onto it, you will need additional straps and padding. But ideally – if you have the budget – you would add one of Thule's dedicated mounting cradles.
You can purchase a surf or SUP-specific board cradle, a saddle for kayaks, a bike mount, luggage rack, heck, even rooftop tents. So, the Thule WingBar is an excellent start for people who want a versatile, robust, and hard-wearing roof rack that looks great and can be expanded on for every eventuality. 
And although this process of purchasing additional parts can get expensive, Thule's racks are cheaper than similar products by other companies, for no lesser quality. It also offers a sleek look and aerodynamic design that can expand to suit future needs
Pros
Easy to mount and use.
Capacity of 165lbs (75kgs)
Sits low to the roof for a sleek design that looks like it belongs on your vehicle. 
Aerodynamically designed to cut wind noise and drag and improve fuel efficiency.
Comes with an AcuTight tensioning tool to ensure correct tightness when fitting. 
Locks securely to your vehicle.
Available in two colors to choose the right look for your car. 
Compatible with a wide range of accessories designed for most outdoor sports and activities. 
Cons 
At $442, it is the most expensive roof rack on our list. 
Requires rails to fit vehicle
Does not come with the tools needed to fit it. Vehicle-specific fitting kits must be bought separately. 
Needs additional accessories to provide the best and most secure rack for your board. At least straps and padding, but we would recommend an additional purchase of the Thule SUP Taxi XT. 
Bonus Must-Have Accessory: Onefeng Sports Lockable Tie Down Strap 
If you've already got a roof rack and you just need a secure way to strap your paddle board to it, then look no further than Onefeng Lockable Straps. These durable nylon straps not only lock your board securely to your rack but are reinforced with three cut-proof stainless steel cables to ensure that no one is getting their hands on your gear. 
And in a design feature that shows Onefeng has thought this through, these straps come in a choice of key lock or passcode options. Perfect for SUP Boarders who don't want to have to worry about carrying – or losing – their keys in the water. 
Pros 
Comes in a choice of passcode lock or key lock with two keys.
Two straps in a pack.
Straps are reinforced with three stainless steel cables for security.
Premium cam buckle stops straps from coming loose in transit. 
Heavy-duty lock is sleeved in silicone to protect your board and vehicle from scratches. 
Versatile – can be used to tie down any load.
Capacity 600 lbs (272 kgs) – but always check your vehicle's capacity. 
Easy to store. Straps roll up small, and the 'magic sticker' system keeps them tidy. 
Budget-friendly at $35.99
Cons
It needs a roof rack to tie on to.
Does not come with any padding. Although the nylon straps are soft enough not to scratch your board, we'd recommend adding some padding to be safe.
Some reviewers note that the steel cables begin to wear through the nylon after a few uses. So we do recommend that you pad your board for extra protection. 
Best for a strong, secure, budget tie-down option for people who already have roof racks. 
So there you have it, six different ways to securely and easily transport your stand up paddle board. But before you go, here are a few last tips to make your life easier. 
Tips for Using Paddle Board Roof Racks
Load your paddle board onto your car upside down to create less wind resistance/turbulence while driving. 
Place the fin at the front of the car, so if the board slips back, a strap will catch the fin and save it from falling off completely.
If your vehicle is tall, you can set the board against the rear of your vehicle (upside down with the fin forward) and slide it up and onto the rack.
If your rack has ratcheting straps, don't tighten them too much, as this can damage your board.
If there are any metal buckles on your straps, place them carefully or pad them so that they don't bang off your board or vehicle while you drive.
Tuck any loose straps into the car, so they don't flap around while driving. 
Give your board a good shake once you've secured it to ensure it's not going anywhere.
When you start your journey, it's a good idea to stop after a few miles to check that the board is still secure and make any necessary adjustments. 
Despite the capacity displayed by the roof rack manufacturer, the actual capacity for any load is determined by your vehicle. So always check that before loading up. 
Happy Paddling!