For decades, surfers were viewed as beach bums who would easily skip work for a good swell. They certainly didn't need watches. But as technology has advanced, surfers have advanced too. They're checking online forecasts, squeezing in surf sessions on lunch breaks, and tracking tides during meetings. All of these tasks and more have been made easier by the use of smartwatches. 
Many surfers view a quality smartwatch as an essential piece of surf gear. Fortunately, there is no shortage of surf-driven smartwatches on the market. They're offered by a long list of tech and surf companies and come equipped with varying features based on your personal needs. 
This guide to smartwatches for surfing and windsurfing will help you determine which purchase is best for you based on your budget, desired features, and more. 
Why Surf or Windsurf With a Smartwatch?
Smartwatches can be especially useful when surfing or windsurfing. Low and high tides for oceans and bodies of water around the globe have become predictable due to years of oceanographic studies, and this information can now be displayed on your wrist via a smartwatch. However, smartwatches have advanced far beyond displaying times and tides. 
Depending on the smartwatch you choose, yours may be able to count the number of waves you've caught, determine how fast you were surfing, how far you surfed, what time the sun will set, and so much more. Some of the most advanced surf watches are equipped with WiFi and GPS to inform you of wind speed and direction, water temperature, wave height, and more at any given time.
---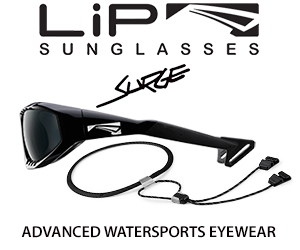 Sunglasses designed for watersports!
Use code WINDFOIL-NATION at checkout for 5% off.
Claim Discount
---
You can now see if it's truly worth skipping out on the remainder of the day's obligations to surf or not.
Surf Smartwatch Buying Guide
As mentioned above, surf watches have become increasingly advanced in recent years. The following are several features to consider when purchasing on for yourself or your favorite surfer.
Waterproof capabilities: You'll likely want a surf smartwatch that's ready for all of your adventures, even if they don't involve surfing. Surfers interested in taking part in other underwater activities, such as diving, will want to be sure the waterproof rating is sufficient for their needs. 
Tide/wind/swell data: Many surf smartwatches display the tide at the beach closest to you. However, you may want one that can tell you the entire surf report, such as wave height, period, wind strength and direction, and more. 
Activity tracking: A variety of surf smartwatches use GPS tracking to determine the distance you traveled, your average speed, top speed, and more. They can also keep track of other physical aspects of the sport, such as an estimate of how many calories you burned and your current heart rate. 
Surfline compatibility: This is one of the most advanced features available in a surf smartwatch. The Surfline Sessions feature tracks and records every wave you surf in front of a Surfline camera. Simply download the Surfline app to your smartphone, find a surf spot with a Surfline cam, and you'll never need a camera person again. 
Some smartwatch features may be more important to you depending on the sport you're practicing. For instance, a surfer who lives directly near a break with a Surfline camera will greatly appreciate Surfline compatibility.
However, a windsurfer heading far out to sea won't see much benefit from this feature. Some surfers are only concerned about the conditions, while others want to know the intensity of the workout they received. You're bound to find a surf smartwatch that suits your specific needs.
Best Smart Surf Watches
Choosing with smart surf watch is best for you and your wallet may be a difficult decision. That's why we've done the research for you. The following are the best smart surf watches available right now.
Ripcurl Search GPS 2 Watch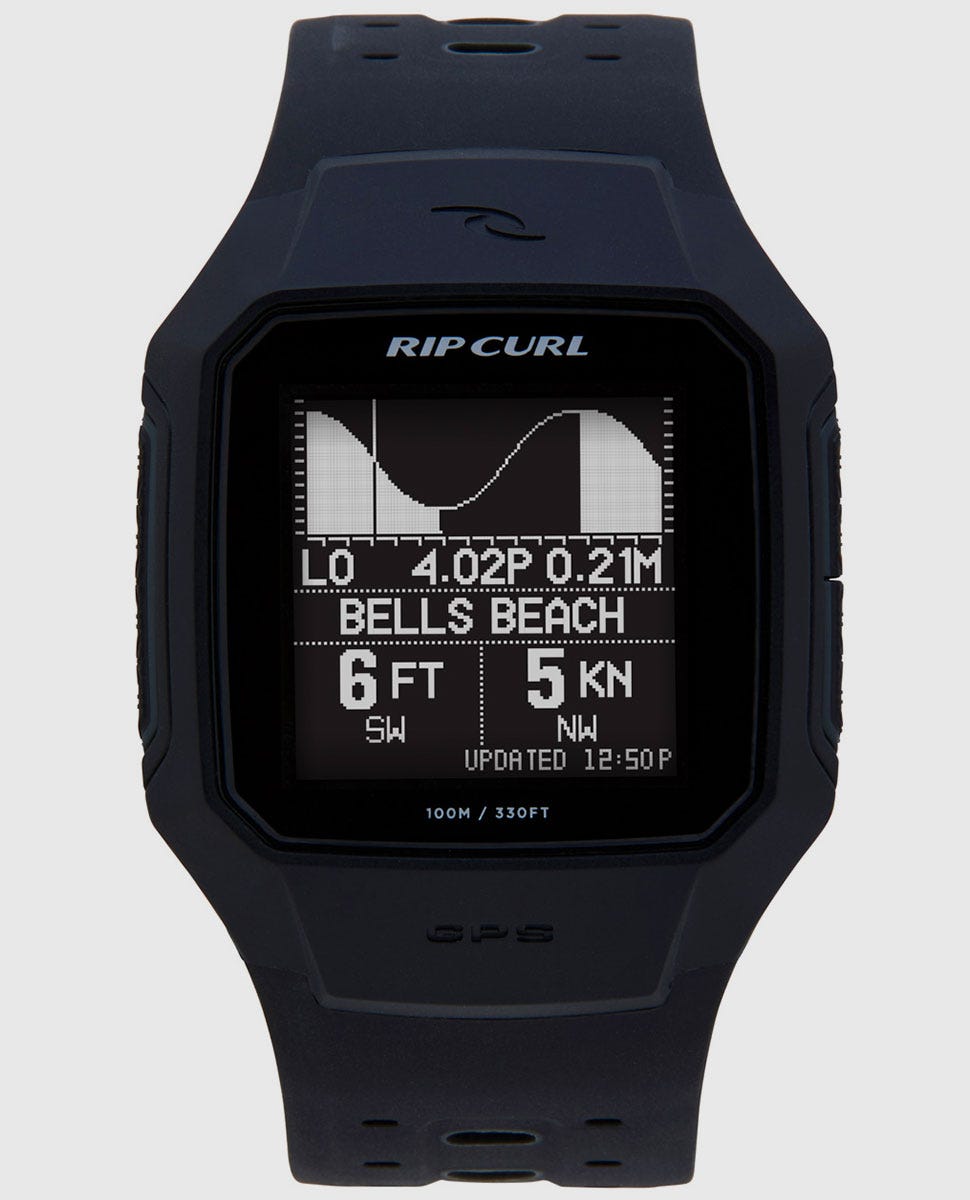 The Ripcurl Search GPS 2 provides a lot of bang for your buck. This smartwatch is able to track the tide, wind speed, wind direction, and swell data in real-time, so you know exactly when it's time to hit the water. Windsurfers appreciate knowing what the wind is doing in real-time and that this watch can track windsurfing or surfing activity through its GPS.
This watch is definitely our top pick for the best smartwatch for windsurfers.
In fact, the Ripcurl Search GPS 2 is ready to track your workouts and provide weather conditions whether you're surfing, snowboarding, swimming, windsurfing, or enjoying a multitude of other action sports. Even more, the Ripcurl Search GPS 2 is now also compatible with Surfline Sessions. It's everything the everyday surfer needs in an affordable, lightweight, 100-meter waterproof package. 
It's important to note that real-time wind and swell information is only displayed when this watch is synced to your smartphone. This means you won't be able to see live data while you're out surfing, but since you'll already be in the water, that's not too much of a concern. 
Pros: 
real-time swell and weather information
GPS for activity tracking
compatible with Surfline Sessions
affordable price for a surf smartwatch
excellent for windsurfing and numerous other action sports
waterproof tested to 100 meters
Cons:
cannot view live data while surfing, because the watch must be synced to a smartphone to receive updates
Garmin MARQ Captain 
This luxurious surf smartwatch provides an abundance of features while looking classy on your wrist. The Garmin MARQ Captain is viewed as a modern tool as much as it is a wrist accessory. Initially designed for sailors, this watch provides all the ocean information surfers and windsurfers need too. 
The Garmin MARQ Captain is our favorite luxury smartwatch for its multitude of features. It's loaded with smart applications providing wind and weather data and so much more. Windsurfers and surfers who enjoy discovering new waves via motor or sailboat will appreciate that marine maps and GPS navigation are already integrated into this device. Boat data can be viewed directly on the wrist, and texts and SOS notifications can be sent from far offshore. 
Additional mind-blowing features offered on this device include:
hydration tracking when logging your daily water intake
respiration tracking, whether sleeping, exercising, or performing everyday activities
a backcountry ski input
full-color golf course CourseView maps
and so many more
Unfortunately, the GARMIN MARQ Capitan doesn't come without a price tag that matches its luxurious style and features. You may need to sell a few surfboards to purchase it. 
Pros:
countless apps and features to improve your on or in-water experience
luxurious look
GPS navigation
can be used notify others during emergencies, even offshore
Cons:
luxury pricing
large face design may feel cumbersome while in the water
10 ATM water rating is more ideal for snorkeling, not diving or other deep-water activities
Garmin Instinct Solar — Surf Edition Pipeline
This Garmin surf smartwatch is a lot easier on the wallet. Its features are more clearly offered for surf and the design leans more toward sporty than luxurious. It's more ideal for the everyday surfer or windsurfer who wants a top-quality watch with all the latest surf features. 
The Garmin Instinct Solar Surf Edition also features tide data, built-in sports apps, GPS, Galilelo, Surfline Sessions compatibility, and more. Those who need to stay up-to-date on what's happening at work or home will appreciate that smartphone notifications come directly to the watch. 
The Garmin Instinct Solar is named for its long battery life and ability to charge via solar power. It can last 54 days without charging when in smartphone mode.
Pros:
GPS, Galileo and GLONASS 
built-in apps 
smartphone connectivity
extremely long battery life and solar charging
water resistant up to 100 meters
works with Surfline Sessions
Cons:
mid-range pricing (a pro or con depending on budget)
overall, we love this watch and cons are limited
Nixon High Tide Watch
Nixon created the High Tide watch like a quality pair of flip-flops, with durability and comfort at the forefront of design. 
Five-hundred and fifty pre-programmed tides from around the world and up-to-date sun and moon data make locating your home break and determining if it's time to surf easier than ever before. The high resolution, front-lit display is fully customizable and will remain functional up to 100 meters below the water's surface. 
Even better, the Nixon High Tide is made in collaboration with #tide. #tide involves the use of a proprietary process to turn all types of ocean plastics into durable, comfortable materials for Nixon watches. The Nixon High Tide is a watch you can feel good about wearing into the ocean. 
It's important to note that if you're searching for a watch to connect to your smartphone or track your surf or windsurfing session, you may want to upgrade to one of the Garmin or Ripcurl watches listed above. 
Pros:
550 pre-programmed tides
sun and moon data
tested up to 100 meters underwater
affordable price
made in collaboration with #tide
Cons:
cannot be connected with your iphone
does not feature GPS or other tracking devices
lacks features for tech-interested surfers
Nixon Base Tide Pro Watch
The Nixon Base Tide is the most affordable watch on our list and also one of the most popular surf smartwatches in the industry. This trendy watch combines an old-school retro design with new-age technology. Its functional and comfortable with an ultra-soft silicon band and super durable molded polycarbonate case. 
This is a basic tide watch, but it includes everything the average surfer needs to determine whether it's time to head to the beach or not. The digital LCD is easy to read above or underwater and provides date, time, the current tide, future tides, a countdown timer, and chronograph. 
The Nixon Base Tide Pro is not a true smartwatch, as it does not feature any applications, GPS, or other "smart" features. However, it is specialized for surfing and can be a useful addition to your collection of surf accessories.
Pros:
one of the most affordable tide watches
cool retro look
comfortable band and durable case
easy-to-read digital LCD
Cons:
doesn't offer GPS or apps
cannot be linked to a smartphone
also lacks features for tech-interested surfers
The Bottom Line
There's a smartwatch on the market for nearly every type of surfer or windsurfer. Those who love staying up-to-date with the latest gadgets will love the Garmin MARQ Captain, even with its lofty price tag. However, those looking for a quality smartwatch with an abundance of features at a moderate price may want to consider the Ripcurl Search GPS 2 or Garmin Instict Solar Surf Edition. 
Surfers who are more concerned about the tides and being on time, rather than "smart" features, will be satisfied with Nixon's Base Tide and High Tide models. 
We chose the above surf smartwatches because each one offers a great value, depending on the features you desire. The most important aspect of any surf watch is that it helps you access the best surf conditions and stay in the water longer. 
It's time to go surf.