When you're testing the limits of your windsurfing skills, crashes happen! No matter if you're a beginner or an expert, at some point you're going for a rough ride into the water.
Catapult crashes while windsurfing can be especially jarring. When you get flung in a violent crash, the mast can strike off your board with a lot of force. In the worst-case scenario, you can damage your board or sail.
By investing a small amount in some windsurfing board protection for your board, you can save hundreds in board and sail repairs.
I have tested and seen different options out there to protect your board from involuntary catapults, and I wanted to share with you my findings and highlights. Here are 5 different options, from cheap and easy to more advanced.
1. Surfbent Windsurf Board Protector
The Surfbent Windsurf Board Protector is an interesting innovation that improves upon some similar products of the past like the Deviator.
---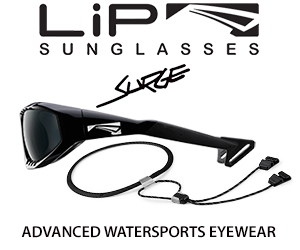 Sunglasses designed for watersports!
Use code WINDFOIL-NATION at checkout for 5% off.
Claim Discount
---
The way that it works is it installs at the base of your mast (compatible with most 1 or 2 pin mast foots) replacing the friction disc. Now when your mast falls into the board, the Surfbent will both absorb and deflect the sail away, protecting your equipment.
It's lightweight (340g), easy to install/uninstall, and like any good protection, you don't notice it's there until you need it.
I was curious to try the Surfbent, and ordered one to see how it performs and share my thoughts with you. I have been testing the Surfbent for a while now, and here are my comments:
From photos the Surfbent looks like a piece of hard plastic, it is actually made of an "elastomer" material, which is a polymer with viscoelasticity.
This material is somewhat flexible so it absorbs a hit then goes back to its original form. So when you fall forward, the rig hits the Surfbent protector first, and the energy is dissipated by the Surfbent.
Your nose is safe, and the contact between the mast and the Surfbent is absorbed by the material, preserving your mast and mast track from breaking as well.
The Surfbent has a slim profile and comes in different colors to match your own equipment, which makes it discrete on your board. The round and low shape takes very little space on the deck and doesn't hamper manoeuvers when either tacking or freestyling.
Here's a video showing how it can be installed in minutes. Even if you don't speak German, it's very straightforward –
Andreas Boos, the creator of the Surfbent, claims that "the product has been tested with crashes in all conditions and on different boards during 3 years before being released on the market, and it has held all impacts. At the moment, there are also several hundred Surfbents continuously in use in different surf schools, and so far I have only received positive feedback".
A small disclaimer, though – "The Surfbent is a good precaution, but not a guarantee that you will not damage your board. In case of a very hard fall, there is still a possibility that the mast hits the nose of the board from the force of the impact. Even in this scenario though, the Surfbent will absorb much more of the shock than if it were not there. It is also recommended to use a tendon mast foot (which is somehow stiffer than a boge mast foot) and replace the tendon once a year to keep maximum stiffness.
After having tested it for a while, I can attest that it's a great accessory, which actually will save you from board repairs without any major drawbacks. The Surfbent has now become fixed inventory in my standard windfoiling equipment.
Pros:
Easy to set-up
Good shock absorption
Limited influence on the riding
Nice design and multiple colors to choose from
The new 2020 version is wider and allows mastfoot up to 12.2cm to be used, and is also compatible with 2-pin mastfoot
Cons:
The Surfbent does not fit boards with a concave/recessed deck, like the IQ Foil and some Starboard formula boards for example. (A new IQ Foil Surfbent is under development)
The Surfbent can create extra stress on the mastfoot. Check out your mastfoot regularly, and change your tendon once a year.
It's not a 100% guarantee against damage during a hard crash but should help in any case
2. Unifiber Nose Guard
Unifiber makes an adhesive EVA nose guard that you apply with 3M tape. It has two hard layers of EVA to spread the impact and a softer layer beneath absorbs them. I have been using this nose guard for a while and I'm very happy with it.
It comes in a few different sizes but I would recommend ordering the XL version for most boards. Windfoil boards have a pretty large nose and the XL nose guard will fit best. (I originally chose the L version, and it was a bit too narrow).
To get an exact measurement for your board, from the tip of the nose of your board back 30 cm, then measure across to get the width.
Small = < 40 cm
Medium = 40-45 cm
Large = 46-50 cm
XL = 50+ cm
Remember to hold the protection and the board together for at least 24 hours to be sure the glue gets hard enough.
Here is a small video showing you how to apply the protection on the nose of your board:
If you prefer this protector (or want it in addition to others), you can find it in our store.
Pros:
Good shock absorption
Easy to apply with 3M adhesive bonding
Lightweight
Nice design and "flexible fit" which adapts to any board
Cons:
3. Unifiber Boardguard
A boardguard is another option to prevent damages to your equipment. This hard padded foam straps around your mast. In the event that your mast would strike your board, the boardguard will absorb the impact and lessen the damage.
Make sure that you place the mast guard at the right height, so it meets the nose of the board when the rig falls forward.
Pros:
Easy to install
No impact on your board while riding
Cons:
Not as good protection as other options
4. The DIY Pool Noodle
This is definitely the most affordable solution: Buy a pool noodle, also called "frite" in French, cut it from down the middle to create a flat surface, and put it to your nose with a strong double-sided tape or a suitable glue.
For example, a Sikaflex polyurethane glue. Then clamp the noodle and the board together until it has hardened.
It is not a very attractive solution but if you're just looking to save money or have a beginner board you lend out to friends, it can help get the job done.
Pros:
Very cheap
Relatively easy to apply
Relatively easy to remove (though maybe not glue residue)
Cons:
Not pretty
Not aerodynamic or hydrodynamic
Other Board Protector Questions
Here's a few other questions I get asked regarding the best windsurfing board protectors.
Does a new Windfoiler need board protection?
The fun thing about windfoiling is that you're almost learning from scratch again: You need to find the right body position to balance on the foil and control the height with the right pressure on your feet. Those who used to be good windsurfers are now back to the school bench, and make beginners mistakes all over again.
The most common mistake when learning how to windfoil is to "over-foil": The foil gets too high and breaks the water's surface, following an immediate loss of control as the nose of the board dives into the water. It often results in a catapult with physical consequences, breaking the nose of your board.
For these reasons, I highly recommend learning foiling with adequate protection to avoid any unfortunate adventures, breaking your brand new €2000 carbon foiling board after the first foiling session.
An experienced windsurfing that's a novice windfoiler is much more likely to push themselves too hard and get a harder crash than a beginner!