The Verdict
The Flymount Original action camera mount is versatile, well-built, and a great value at the price. Don't cheap out on a product holding your expensive action cam!
The Good
Versatile, place all over your sail
Extremely well-built
The Bad
Not the cheapest mount
Light, Strong, and Endlessly Versatile, the Flymount Original is the perfect action camera mount for your foil windsurfing sessions!
Flymount has become the go-to mount for advanced amateurs and professionals across the world, from action video teams to top competitors, and I was keen on testing it out myself and sharing my thoughts with Windfoil Zone's readers.
Flymount Original – GoPro mount
After testing out the Flymount action camera, here are my thoughts on how it works with a GoPro for windsurfing.
Flymount, The Best GoPro Mount for Windsurfing
Flymount is the longest established and most evolved mount for windsurfers. Launched in 2006, and continuously evolving in order to remain one of the very best action camera mounts on the market today.
Flymount is manufactured in the UK, but designed and refined in the waters around France, Tarifa, and Hawaii.
---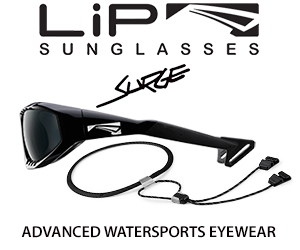 Sunglasses designed for watersports!
Use code WINDFOIL-NATION at checkout for 5% off.
Claim Discount
---
How Does the Flymount Work?
The system is quite simple: you only need to tighten the screw, and the rounded opening gets easily attached around your boom or your mast. You should make sure not to tighten it too hard though, as the pressure could easily wreck your boom or your mast. Tighten it enough so you can't budge it, but don't overtight it.
The leash is only security to avoid losing your camera in the water. This is pretty unlikely to happen though unless you take a really quick hit from say a rock.
Here is a great video showing the versatility of the Flymount. It's simple to move the mount around your mast or boom to capture whatever action after.
Flymount's key features
---
The ultimate board protector that doesn't get in the way.
View Today's Price
---
Durable: Resistant to saltwater, UV protection, and can handle extremes of temperature.
Light: Only 143 g.
Well-made: Made from glass-reinforced nylon and marine-grade stainless steel.
Apart from its rugged construction by using marine grade materials, the Flymount is extremely versatile so it can quickly go from the mast to boom and change positions in seconds. The knob to tighten/loosen the mount is large enough for your to easily handle while you're in the water, even when wearing gloves.
There are several ways to mount a Flymount on your windsurfing equipment:
Attach the Flymount to your windsurf mast, looking down along the sail to one side, or with a small extension to look down the luff.
I personally prefer to put the Flymount anywhere on the boom, to get a more intimate view of the rider. It's nice to capture a lot of the scenery.
While capturing your riding for pleasure is fun, you can also use this action mount to critique your riding technique. By placing the camera high on the mast looking down at you, you can see exactly what you're doing with your hands and feet as you try to accomplish various moves like freestyle tricks or jibes.
The Flymount comes as standard with a GoPro fitting but it can be ordered with a tripod screw thread and ball joint to fit other camera types, or as a bundle with both fittings. The GoPro quick release mount is a blast: quick, simple, and secure.
Flymount Review Summary
The Flymount is a small but well-conceived action camera mount, which makes it very simple to document your sessions. I'd love to have had this when I was learning how to windfoil. I highly recommend this product.
A nice bonus is that even though it was designed with windsurfing in mind, it can also be used on a mountain bike, racing car, dirt buggy, and off-roaders, snowmobile, or sled with equal simplicity.
I have been looking for other similar mounts on the market, but as far as I have seen, no other product comes close to offering the same combination of strength, versatility, and low weight at that price.