Windsurfing dates back to the 1950s. It may not be the newest water sport, but it's one that continues to evolve after more than seven decades of existence. One of the latest advancements in the sport of windsurfing is the inflatable windsurfing board.
Inflatable windsurfing boards feature a unique construction and can be quickly inflated or deflated for easier transportation and storage. They're equipped with fin boxes, foot straps, and a mast track for easily connecting your sail and hitting the water within minutes of arriving at your destination.
Inflatable Windsurfing Board Construction
Inflatable windsurfing boards can vary greatly from one manufacturer to another. However, they're all designed to be as durable as possible without sacrificing transportability. All available inflatable windsurfing boards are constructed with what the industry calls "dropstitch PVC." This PVC is reinforced to be especially durable while providing superior stiffness. Unlike traditional surfboards, windsurfing boards are flat on the top and bottom.
Board constructions vary based on the level of windsurfing you want to do. A basic inflatable windsurfing board will feature a single layer dropstitch technique. These tend to be the cheapest models, but they're not known for durability or high-performance windsurfing. Double layer dropstitching provides more durability and stiffness for superior windsurfing at higher speeds.
The best inflatable windsurfing boards on the market are made with a pre-laminated dropstitch technique. This allows them to remain light while being incredibly durable and stiff. They substitute more fibers for glue and PVC, creating a drastically higher quality inflatable windsurfing board. 
---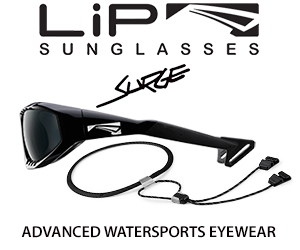 Sunglasses designed for watersports!
Use code WINDFOIL-NATION at checkout for 5% off.
Claim Discount
---
The Pros of Choosing an Inflatable Windsurfing Board
Windsurfers of all skill levels have different opinions on whether an inflatable windsurfing board is a wise purchase. It's important to consider where and how often you plan to use the board. The following are several pros of purchasing an inflatable board as opposed to a traditional windsurfing board.
They're easy to transport. Traditional windsurfing boards are made of epoxy, fiberglass, poly, They can be cumbersome and difficult to transport unless you have a large vehicle. An inflatable windsurfing board can be carried inside a backpack and is ideal for traveling.
They're durable. Damage and dings are common with traditional windsurfing boards and their masts. A mast can smash into the surface of an inflatable windsurfing board without causing damage. 
They can be easier to use. The higher volume of an inflatable windsurfing board tends to make it more stable and easier to balance. Inflatable windsurfing boards are often preferred among beginners. 
---
The ultimate board protector that doesn't get in the way.
View Today's Price
---
They're affordable. The average inflatable windsurfing board is roughly half the price of an epoxy, fiberglass, or carbon model. 
Ideal for occasional use. You don't have to be an extremely dedicated windsurfer to enjoy the sport. Inflatable windsurfing boards are an affordable and convenient option for individuals who windsurf occasional. One can be a fun addition to your beach or vacation home.
The Cons of an Inflatable Board
Many windsurfers prefer to stick with the tried-and-true epoxy, fiberglass, or new carbon models. Dedicated windsurfers argue that inflatable boards cannot provide the same level of performance as a traditional board. However, inflatable boards are constantly advancing and now allow for more maneuverability at higher speeds than ever before. 
They can feel too stiff. Inflatable windsurfing boards may feel less responsive and too stiff for advanced windsurfers. Traditional windsurfing boards tend to be more responsive and have a more direct feel.
Wave riding is difficult. Many advanced windsurfers like to catch waves while windsurfing. Inflatable boards feature thick, round rails that are not ideal for catching waves or going down the line.
They're heavy. When inflated, inflatable boards feel heavier than their fiberglass, epoxy, or carbon counterparts. 
They're not ideal for carving gybes. Another advanced windsurfing move is a deep carving gybe. The thick, rounded rails make this maneuver much more difficult. 
They're not suitable for foiling. Some windsurfers like to combine multiple sports into one, such and windsurfing and foiling. Current technology does not allow inflatable boards to be used for foiling, but we can predict that this advancement is on the horizon.
Types of Inflatable Windsurf Boards
Inflatable windsurf boards are now available in a variety of models, ranging from beginner boards to those that are much more performance-oriented. Beginner boards tend to be extremely stiff and durable to make learning and balancing easier. They include foot straps and a center fin.
Freeride inflatable windsurf boards are designed for planing. They don't include a center fin and often don't have foot straps attached. They are equipped with PVC rails that are designed to reach higher speeds and allow for deeper carves. Freeride inflatable boards provide a more similar feel to traditional windsurfing boards than beginner inflatable versions.
Performance inflatable windsurf boards are designed to allow for more radical maneuvers. The boards are often manufactured with Dyneema or Kevlar to add stiffness, and superior fin box systems allow fins to be changed depending on conditions. These are more expensive inflatable windsurfing boards, but they're designed for high speeds, impressive carves, and all of your favorite maneuvers. 
Recommended Inflatable Windsurfing Boards
Inflatable windsurfing boards are becoming more popular, and there are several top-quality options available. The following are some of our favorites.
Unifiber Allround Evolution IWindSup
Unifiber is a leader in the manufacturing of inflatable windsurfing boards and stand-up paddleboards. Their Allround Evolution IWindSup board allows you to turn your windsurfer into a stand-up paddleboard and vice versa. This is a stiff, durable, and lightweight inflatable board designed for versatility. We recommend this option for anyone looking for nonstop fun on the water without breaking the bank.
Unifiber Elevate IWindsurf 280
This Unifiber model is designed to provide a more high-performance windsurfing experience without the added cost. It's easy to maneuver and sharp PVS rails allow for superior grip when carving. This is one of the most compact inflatable windsurf options, so you can easily pack it into a backpack and take it anywhere. The Elevate IWindsurf 280 is top-rated for its superior stiffness and strength without added weight.           
StarBoard SUP Windsurfing Inflatable
The SUP Windsurfing Inflatable by StarBoard is similar to the Allround model by Unifiber. It can easily be transformed from a windsurfing board into a stand-up paddleboard, providing more fun for the entire family. This board remains compact despite its versatility and can easily be rolled into a bag for storage or transport. This is viewed as one of the best inflatable windsurfing boards for learning quickly. 
Starboard Wingboard 4in1 Inflatable
The Starboard Wingboard 4in1 inflatable is one of the most versatile inflatable boards we've seen. You can take this board stand-up paddling, wing paddling, wing surfing, or windsurfing. It features a wide nose and tail for superior stability, a removable center fin, and a removable mast base, so you can transfer from windsurfing to stand-up paddling in minutes. The parallel rails and 10'4″ length allow this board to glide easily and reach high speeds without sacrificing stability. 
Should You Buy an Inflatable Windsurfing Board?
Inflatable windsurfing boards are ideal for some water sport enthusiasts, while others may find them less desirable. Inflatable boards are extremely easy to transport and store. They can also provide countless hours of fun on the water for everyday windsurfers. However, they may not provide the high-performance features advanced windsurfers are seeking. 
If you're going to be regularly windsurfing, then you'll probably quickly want to grow beyond an inflatable board given you have the ability to store and transport a solid board. An inflatable is never a bad thing to have, though. You can also lend it out to a friend that's learning windsurfing – inflatables can take a beating that epoxy boards can't which will save you wallet and friendships!