Name: Amado Vrieswijk
Citizenship: Bonaire, Dutch
Home spot: Bonaire (an island municipality of the Netherlands in the southern Caribbean)
Sponsors: JP-Australia , Severne Sails, LSD-fins and Brunotti
Amado is probably better known as a hardcore freestyler, with several PWA victories in freestyle. However, his recent victory at the PWA foiling competition on the Costa Brava in Spain shows that Amado is much more than just a freestyler and has become the man to beat in foiling events.
---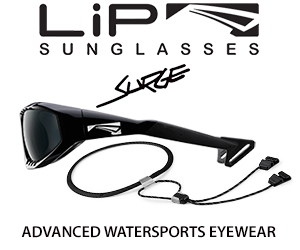 Sunglasses designed for watersports!
Use code WINDFOIL-NATION at checkout for 5% off.
Claim Discount
---
Amado, first of all, congrats on your recent victory in Spain! Secondly, thanks for taking the time to answer a few questions:
Windfoil Zone: Could you give us a little glimpse into your personal life?
Amado Vrieswijk: My life is 90% focused on my passion/sport. Windsurfing. I dedicate my time to the gym and train on the water. I'm traveling with my gear for almost 9 months a year. The rest of my time I spend with my good friends and family at home or wherever I am.
WZ: Tell us about windfoiling. When did your windfoil journey begin, and why did you switch from freestyle to windfoil (and slalom)?
---
The ultimate board protector that doesn't get in the way.
View Today's Price
---
AW: At first, I did not switch from freestyle to anything. Freestyle is still my favorite discipline. I saw foiling for the first time 2 years ago on the Costa Brava, I tried it and immediately felt excited about this new way of windsurfing.
The possibility to keep on windsurfing even in light wind conditions is awesome. When I started windsurfing 16 years ago, I started out with slalom and although my focus shifted to freestyle soon after, I still kept on training. I love speed!!
WZ: Many were surprised to see you on top of the podium after 10 windfoil races, defeating the best slalom guys on the planet. Can you tell us more about this victory?
AW: After training a lot on my foil in the past months, I was disappointed in Korea with 11th place, I was better in Japan, but missed out on the podium by just 0.7 points. I told myself, next time I'll do better and I did it!
For me, I use the perfect equipment: The JP-Australia Hydrofoil 150 is awesome together with the Severne Sails Hyperglide and the Starboard racing-foil. Finding the right course is a challenge in every heat, but the anticipation of the gusts and a lot of balance is the trick.
WZ: Will we still see you in freestyling events, or are you now focusing 100% on windfoil and slalom?
AW: For sure, I will attend all PWA Freestyle-events. The world title is still my goal and I will give all it takes to make 2018 successful again in freestyle.
WZ: Windfoiling has really taken off in the last couple of years. How do you see the evolution of the sport going forward? Is it just a fad or a real revolution of modern windsurfing?
AW: I think it's gonna be a hype for the real windsurfing addicts. Now you don't have to wait for the wind to pick up or to drive far away to find the wind. Now, you can have fun in less windy places. The only trick is to create the right equipment for an affordable price so that more people can enjoy this branch of windsurfing.
WZ: Guys like Balz Müller are pushing the limits of the foils. What do you think of freestyle foiling? Is that something you are playing with?
AW: Balz is a crazy guy and yes, I'm radical too! But freestyle foiling is going to be too dangerous when in competition-mode, or at least the riders will need to wear full safety gear on the water, haha.
WZ: Windfoiling is a young discipline and foil equipment is still quite expensive to buy. What would you say to people who are still not convinced or hesitant to give it a try?
AW: If you don't try, you won't know what you're missing. The feeling of being able to fly is awesome and relaxing at the same time. I would recommend renting some foil-equipment first, give it a try, and then decide if you want to invest in it or not.
WZ: Amado, thank you for answering our questions. The last word is yours. Do you have anything to add to finish off this interview?
WZ: I'm still over the moon from my win in Costa Brava and will keep on pushing the limits in all disciplines. Windsurfing, no matter the discipline is awesome and everybody should at least give it a try!