I had the chance to catch up with Bruce Peterson of Sailworks. The brand has earned a great reputation and has become a benchmark in the windsurfing world with loyal customers all around the world. Sailworks also launched the Flyer windfoil sail and shows that we should count on them in the future development of windfoiling.
In the interview below, you will learn a bit more about Bruce, Sailworks, and the Flyer windfoil sail.
Name: Bruce Peterson
Citizenship: Canadian
Age: 55
---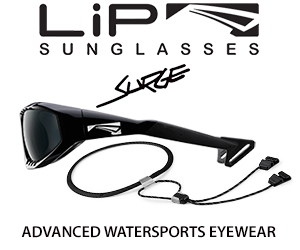 Sunglasses designed for watersports!
Use code WINDFOIL-NATION at checkout for 5% off.
Claim Discount
---
Home spot: Hood River
Windfoil Zone: Hi Bruce. Thanks for answering our questions. To start with, could you present yourself and give us a small glimpse into your personal life?
Bruce Peterson: I'm a sail designer and the owner of Sailworks. I work in a world of scissors, sewing machines, CAD tools, and rolls of material. I've been in the windsurfing business for 38 years and an active windsurfer for over 40 years.
I live in Hood River, in the windy Columbia River Gorge, where we get well over 200 sailable days each year, mostly between March and October.
---
The ultimate board protector that doesn't get in the way.
View Today's Price
---
WZ: Tell us a little bit more about Sailworks, your role in the company and how did it all started?
BP: My wife Amy and I founded Sailworks in 1989 after working together for three years at Rushwind sails in Hood River in the mid-80s. I'm the owner, general manager, and sail designer (my wife now works as a maternity nurse at the local hospital).
After 30 years running a windsurfing company, I feel like a survivor. Foiling has been an incredible boost for windsurfing and our business has really benefitted.
We've also partnered with AFS and Moses to import their carbon windfoils into the North American market.
"I recall talking to Dale Cook after my 3rd or 4th session and remarking that "foiling will change windsurfing forever" – and it has."
WZ: Can you remember the first time you tried windfoiling?
BP: My first time windfoiling was in August 2016 after the summer slalom racing series had finished. I had opportunities to try foiling earlier, but I was focused that summer on a comeback victory in the Gorge Cup racing series, after being sidelined for most of the 2015 season with a torn hamstring and reattachment surgery.
When I did start foiling I had my regular training partners already a few months ahead of me, so I caught on very fast in that chase and mimic environment. I was hooked immediately and made it my #1 goal to become proficient and in control.
I recall talking to Dale Cook (one of Sailworks' co-workers) after my 3rd or 4th session and remarking that "foiling will change windsurfing forever" – and it has.
WZ: Sailworks was one of the first sail company to launch a dedicated windsurf foil sail, the Flyer. Could you tell us more about the concept and explain which features have been specifically designed for windfoiling?
BP: Once we started foiling we tried all our different sail models with the foils – race, wave, freeride, jumping sails, even our school/kids rigs. Our team of riders is always testing and reporting back on their sessions and feelings, and how the sails are performing.
In every sail model, we found some attribute or feature that we liked or felt was beneficial for foiling, yet the entire collection of favorable attributes did not exist, together, in one sail.
So we isolated what we liked for foiling and made that sail, which was entirely unique, and purpose-built for foiling. I'm fortunate that the guys I work and sail with – Dale Cook, MacRae Wylde, Jim Mudry, and Colson Zack – are also some of the best windfoilers on this continent.
They were all super excited to work on the Flyer sail project, and we pitched all our resources to it, so the sails came together quickly and we set a very high-performance benchmark. We all agreed that we became much better foilers with Flyer sails.
Sail Development of the Sailworks Flyer
WZ: Can you also use the Flyer for regular windsurfing?
BP: You can, but one of the primary differences in the Flyer that optimizes it for foiling – its lower rig tension – also detracts from its rig stability for "finning" (i.e. regular windsurfing), more so for heavier riders who will load the sail up more.
WZ: I think you made some changes to the Flyer in 2019. What have you changed compared to the first version?
BP: We made some additions and refinements to the Flyer sail range. The new Flyers are available now.
One the small end we added a 3.9 size, as it gets quite windy around here and riders are foiling more and into stronger winds as they get more proficient. The middle sizes, 4.5, 5.2 and 6.0, just received some minor luff curve adjustments to polish the balance of tension further.
The 7.0 size is new, with 5 battens now and a slightly longer luff length so that a 460 RDM mast can be used. And at the big end of the range, we added an 8.2 size, also 5 battens, but on an SDM to achieve better dynamic rig stability (RDM's are too soft at this luff length).
WZ: Windfoiling is still small compared to traditional windsurfing, but obviously growing in popularity. How do you see the future of foil windsurfing?
BP: Foiling will continue to grow, develop and mature.
Already we see multiple factions of foiling being defined:
– On one end you have the PWA foil racing and the foiling equipment the industry is developing for this purpose. This is lightwind course race, similar in many ways to Formula racing.
– On the opposite end of the spectrum you have wave and freestyle foiling with guys doing crazy tricks and pushing foiling into aerial move and into bigger wind and wave environments.
These are the noisy ends of the foiling sport that get lots of attention, publicity, photos and equipment development.
However most foilers, by far, will never enter a race or do freestyle tricks with their foils, so we see the great middle of sport where growth, depth and permanence of foiling we be. Call it performance freeride foiling – a little slower and turnier on one end of the spectrum, a little faster and hooked up on the other end – but that's where we are.
That's the way we foil, so its where we'll be focusing our attention and product development.
WZ: Thank you for answering our questions. The last word is yours. Do you have anything to add to finish off this interview?
BP: Foiling has changed windsurfing forever and it opens up so many opportunities for light wind windsurfing.
Get lifted and enjoy the ride!