We are super stoked to have interviewed Philippe Caneri, one of the precursor of the foiling fever we are experiencing nowadays. Kitefoiling, windfoiling and now foil-pumping have probably never been so popular without him and his brand Horue. Thank you Philippe!
WZ: Hi Philippe. Horue is one of the first brands to have commercialized hydrofoils for the greater public. Tell us briefly how everything started, and where does the brand name come from?
Philippe Caneri: Hello! Absolutely, we were the first brand to make windfoils in deep tuttle which fit on series production boards! It all started in 2007 with my brother Valère. Initially, we made steel foils for wakefoil, which we improved gradually. Shortly after that, we progressed into making kitefoils, then windfoils, and more recently supfoils, surffoils, and foil-pumping.
Just after finishing my engineering studies in composite materials in 2013, I created the brand Horue, which means surfing, or gliding in Tahitian. I launched two products: the GP and the H13, which were immediately very successful.
The range expanded naturally to become what it is today, the widest windfoil range on the market with a three figure growth each year.
---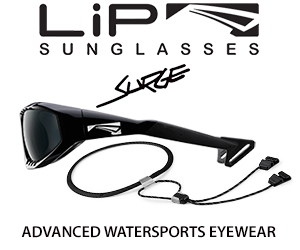 Sunglasses designed for watersports!
Use code WINDFOIL-NATION at checkout for 5% off.
Claim Discount
---
WZ: How many people are working in the Horue team today?
PC: I am alone in the company, but there are three engineers managing the R&D, and board production is outsourced in Europe, in the South East of France and in Slovenia. Overall, there are about 10 people involved in the brand.
WZ: Kitefoiling has been around for a few years now. Why do you think it took more time for windfoiling to develop and finally be available for the general public?
PC: I think there are several factors as to why it took some more time, not necessarily linked to one another.
---
The ultimate board protector that doesn't get in the way.
View Today's Price
---
Firstly, kitefoilers are generally more open-minded towards new practices, at least those who started kiteboarding between 2007 and 2010. Most of them were ex-windsurfers, and had already taken "a risk" to switch from windsurfing to kiteboarding. For them, there was only a small step to try kitefoiling as well.
Secondly, kitefoiling started with the brand Carafino. They had a foil, which worked very well for the time, though it was not perfect. It was mass-produced at a reasonable price, and they remained alone in the market for some time.
In regards to the windfoil, the first product was launched in 2010* and was the only one on the market until we launched ours. Their product was difficult to promote because it was too expensive and lacked efficiency, in addition to having a slightly fancy design choice.
From my point of view, their marketing has done a lot of harm to the development of foil windsurfing, because their concept was not relevant to the consumers, priced too high and with a debatable selling proposition, also repeated by most media. It took time to change people's opinion, but we eventually did.
From our side, we managed to quickly build Horue as the key player in the windfoil sector already in 2015 by providing accessible, high-performance products, and most importantly, which fitted to the demand.
WZ: Tell us how your brand vision differs from others?
PC: We bring a different vision of foiling: lightness, maneuverability, French-made, a complete range of products, etc…
The goal is really to have fun on the water! We have always been swimming against the global vision of competitors, and this strategy has always been successful !
WZ: In addition to kitefoil and windfoil videos, we have seen some impressive "foil-pumping" videos from Horue. According to you, is it a new discipline emerging, or just a marketing stunt to prove that your foils are efficient?
PC: Certainly a bit of both! For me, I now prefer foil-pumping to windfoiling. It is truly pure gliding where each movement has an influence. It is an amazing feeling to fly on perfectly glassy water.
WZ: You also have sails dedicated to foil windsurfing in your collection, the Swart and Swart RS. What are the benefits of the Swart when foiling compared to a conventional sail?
PC: The Swart and Swart RS (Racing Sail) were launched 1 year ago. The benefits are undeniable compared to a conventional sail: lightness, reactivity, effective pumping providing a colossal power and it's 100% made in France.
For example, it is clear that a 5m² wave sail does not have the ideal shape to be used in 10 knots. The Swart, yes!
Similarly for racing sails: a 7.5m2 slalom sail with 3 cams is too heavy and is not made to be used in less than 10 knots, but the Swart RS, yes!
Once you go Swart, you'll never go back!
WZ: With a price of €699 (incl. VAT), the Horue H10 Evo is a hybrid carbon – stainless steel foil at a very competitive price. Without giving everything away, could you explain how you manage to offer such a good value-for-money product with a "Made in France" production?
PC: We managed this feat by simply taking time to reflect. We have asked our 3 engineers to work on this project since February 2016, and found that many competitors were taking a false path in their choice of material or process.
Today, the result is beyond our expectations with a lightweight foil, 100% made in France, with wings made of 100% carbon and early planning.
I hope that this great foil will satisfy customers that have been waiting for it for a long time. But i'm not afraid about that 🙂 We are really proud of the result, and happy that we managed to keep 100% of the building process in France.
WZ: Many brands have launched their own windsurf foil this year, in particular a number of kitesurfing brands, and big names such as Slingshot, Neilpryde, and Starboard. What do you think of the development of the market?
PC: There are both positive and negative aspects. The positive aspect is that windfoiling will become more accessible to everyone, while the brands will make many efforts in R&D to be ahead of the competition. The main concern is the launch of hydrofoils that have been developed too quickly and with questionable marketing strategies. This might turn away newcomers to the sport.
I believe we will soon see a divide in the market between brands that are staying small and others that have managed to scale their production to a higher level, thanks to high quality products and higher demand.
WZ: For you, what is the future of windsurf foiling? Just a fad or a real revolution of modern windsurfing?
PC: I think that it will remain as a discipline of its own, like kitefoiling, and that it will finally destroy the formula windsurfing class!
WZ: Philippe, thank you for answering our questions. Do you have anything to add as a final word?
PC: Stop talking, let's get out on the water!