Name: Renaud Barbier
Citizenship: French
Age: 39 years
Home spot / home town: Dubai
Windfoil Zone: Renaud, tell us a little bit about yourselves and Mantafoils
---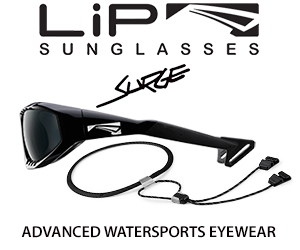 Sunglasses designed for watersports!
Use code WINDFOIL-NATION at checkout for 5% off.
Claim Discount
---
Renaud Barbier: I am an engineer and have been designing and building my first foils back in 2003. In 2008 I started to build foils for friends and finally in 2012 I became OEM (Original Equipment Manufacturer) for Zeeko kitefoils (meaning doing all design and manufacturing for them), until 2015 when I decided to start my own brand.
We initially started with "thekitefoil.com", then added "thewindfoil.com" in 2016 and in January 2017 changed our branding for Mantafoils covering all foil activities (kitefoil, windfoil, supfoil, surfoil)
WZ: How many people work at Mantafoils?
RB: We are only 2, but we work with a network of suppliers specialized in CNC (Computer Numerical Control) machining, carbon fiber, board shaping, etc…
---
The ultimate board protector that doesn't get in the way.
View Today's Price
---
WZ: Mantafoils has a lot of experience within kitefoils. Why are you expanding into windfoiling?
RB: We were one of the first kitefoil producers, and we are always trying to be ahead of the trends. In 2016 we were the first brand to propose aluminum windfoils based on our kitefoil experience. At that time public interest was not yet there but we already knew it was coming…
We have been selling hundreds of windfoils around the world, it is one of the fastest growing market together with surf foils. Kitefoils is now stable, with a large number of brands.
WZ: There are many new brands entering the windfoil market. What would you say is differentiating your brand and products from the others?
RB: First of all, few brands can claim to have such experience in foil design and even the "majors" are still catching up with production issues and other concerns, which we don't have anymore.
We are designing our foils ourselves and have very fast product update rates, which allow us to be very reactive in terms of product modification. Also at below 700 USD, we are offering one of the cheapest product loaded with tons of options, like adjustable stabilizers, carrying bag, multi support foil, etc…
So in short, lots of features and a really attractive price point.
We also have some unique products like our inflatable supfoil/windfoil board.
WZ: Your alloy foil Mono has a very competitive price for people who want to try foiling for the first time. What would say of its performance, compared to your more advanced carbon edition?
RB: Our Manta Mono is a foil you can use for learning but also for casual racing. We have participated in a few races in France with the alloy foil and we even finished ahead of many carbon foils in one of them.
You can also start with a basic kit and add on carbon wings to go faster later on.
Of course our carbon series are much faster, but cost nearly 3 times the price of our mono foils.
WZ: Could you go through the new features of the Mantafoils Mono?
RB: Yes, there are many new features:
– A new mast head with built in mini load plate and an optional wider load plate for even safer ride.
– New Transport bag with separate inlets that can be used as beach foil cover as well
-Orange wings for higher visibility in water, Black wings still available on demands.
– New nose to fit carbon race wings on the Mono, improving the modularity and evolution of the product.
– New SUP/Surf dedicated front wing with high lift to size ratio allowing even lower take off speed as before.
– For Kitefoilers we also brought the first 110cm ultra stiff aluminum mast (not yet tested and approved for windfoil).
– We are also bringing this month in a lighter tuttle to plate adapter as well as a plate head for our mast profiles as an alternative to the tuttle head.
Overall we listen to the various customers' inputs last summer and we brought a mid-life significant upgrade that we trust will stay for some time.
WZ: Mantafoil has an unusual item in its lineup: an inflatable windSUP / windfoil board. Could you tell us a bit more about this product and… is it really working?
RB: It is a surprisingly nice product and very useful as it is easy to transport. We packed it with the latest 30psi drop stitch technology, which allows us to have a fairly light (8.5kg) and rigid board.
Of course we can't compare it with our full carbon models, but for supfoiling it is really nice and safe, you won't get injured falling on the board!
We have the possibility to fit straps and use it as a real windsurf/windfoil board and here again it is really cool for the casual rider.
WZ: Windfoiling for the large public really started in 2017, but it is still confidential compared to regular windsurfing. How do you see the future of windfoil? Will it remain a niche within windsurfing, or will windfoil gear be in every windsurf quiver?
RB: I guess it will take a few years to grow, but people are now realizing that they can fly using smaller gear after only 2 or 3 sessions, so they can resell their larger rig.
Recent survey shows that our customers are now riding foils 60-70% of the time, which means that this is for them a great alternative or let's say a new opportunity for light wind where before they could only sit on the beach.
WZ: Anything to add as a final word?
RB: Foiling is very addictive and opens a whole new world of riding opportunities. It is surely not as hard as people initially think. Also considering the fact that you can ride with smaller sails, today's foils do not increase your quiver cost!
Renaud, thanks for answering our questions!