Until now, foiling and slalom were two separate disciplines, and each had some dedicated events in 2019. Many were frustrated because having more flexibility between foiling and slalom gear would have offered more racing opportunities instead of waiting on the beach, for example during events like Marignane and Costa Brava in 2019.
In Marignane, the wind was too weak for slalom for the majority of the week, but the conditions would have been optimal to start foiling races. In Costa Brava it was the opposite, where foiling heats were competed in survival mode or canceled due to strong wind conditions.
For 2020, the PWA announced some changes in the slalom rules for men. Windfoiling and slalom will no longer be two different disciplines for the men, and they will test a new racing format where foilers and slalomers may compete side by side on the same heat!
It will be up to each sailer to choose what they're taking out into the water.
In light wind, we expect the majority of the fleet to use windfoil gear, but as windsurfing is still faster and more performant than foiling in strong winds and rough seas, most riders will change to a regular fin as soon as the wind picks up.
---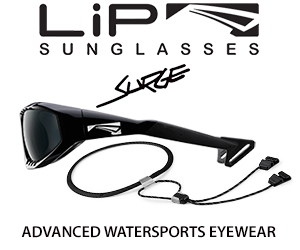 Sunglasses designed for watersports!
Use code WINDFOIL-NATION at checkout for 5% off.
Claim Discount
---
The big question is when will the riders choose to make the switch? In medium wind conditions, 10-15 knots, we will probably see both slalom and windfoil gear in action in the same heat!
This raises many questions, and of course many are concerned about safety, as we can expect some tough battles and crashes when jibing at the mark.
Here is an example of what could happen during a heat (Jimmy Thieme on fin, and the foiling world champion Nicolas Goyard on foil):
Note that the women competitions will remain with the same format as earlier for the moment, with separate fin and foil competitions. But if the new format fin+foil is a success, it is likely to be adopted for the women as well next year.
---
The ultimate board protector that doesn't get in the way.
View Today's Price
---
To better understand how riders react to the new rules, we have asked 2 veterans and one of the young guns on the PWA World Tour to give their views about the new rules:
1: Antoine Albeau, 48 years old, France, Gear: JP, Neilpryde
2: Arnon Dagan, 42 years old, Israel, Gear: FutureFly Boards, Neilpryde, ZFins, BG Surfing
3: Nico Forés, 19 years old, Spain, Gear: Loftsails, Unifiber
Windfoil Zone: What do you think of the new rules decided by the PWA for slalom competitions in 2020?
Antoine: The rules have been decided and agreed upon by the riders themselves. We have had long discussions and it has been a long process. Foiling is a new challenge for most of us, but it's important that we do it now for slalom windsurfing.
We have focussed a lot on on upwind and downwind courses with relatively low speed and we are now behind compared to other foil sports.
Now with the new foil slalom discipline, we are training on reaching full speed for the first time. The speed is very close to the windsurfer with regular fins at about 30 knots speed. Give it one year of product development and I'm sure we will manage to sail at 35 knots average speed.
Arnon: I think the rules are very exciting and interesting! I think PWA was always out there to show the top evolution and development of the sport and this is exactly what will happen now where you will be able to see life how racing is evolving.
The only thing I do not like is the huge amount of gear riders have to carry to compete, 7 sails and 4 boards is absolutely ridiculous!!
Nico: I think it's a great idea to include the foil in the slalom modality, for the simple fact that we will go from sailing with 10-12 knots to 5-6 knots, and like this, finishing more heats, that includes saving a lot of time lost at the beach waiting for wind. Definitely a very interesting idea!
Windfoil Zone: Do you think having fins and foils on the same reach may become too dangerous for the competitors?
Antoine: When on the same reach, it should be ok, but the problem will be the jibe. We will need to brief the riders about that. The jibe "pirates" will need to calm down a little bit, so we all make sure that it will remain safe to compete.
Arnon: Yes I think it can be dangerous but PWA represents the extreme side of windsurfing. It is also dangerous to go for a push loop forward or driving a Formula 1 car. I really hope there will be no accidents but sailors understand and choose to race.
Nico: It can be quite dangerous because you can jibe much faster with a foil. If you are foiling and someone falls right in front of you, it will be very difficult for you to brake. But I suppose we will get used to this danger and will manage to avoid the crashes.
Windfoil Zone: Have you decided your strategy yet? When will you switch from fin to foil, or vice versa?
Antoine: Yes of course, I have some ideas, but all will depend on the weather and sea conditions. Nobody knows 100% yet as many have been waiting a long time for new equipment, and the training conditions have not been ideal due to the lockdown.
We don't know how other competitors are performing either with their new gear, as we are not training together. So choosing the right equipment will be a challenge when the competitions start again.
Arnon: At the moment I still need to catch up on my foiling speed but once I do, I think when there is enough wind for my 7.8m sail and medium board, I will take the slalom board and if there are lighter winds I'll choose the foil.
Nico: I personally control the foil way better than the fin, so while others switch to the fin, I will try to hold on with the foil and a smaller sail until 18-20 knots, unless it is in very choppy conditions!
---
Good luck guys! Let's hope for many good and safe battles out there on the water in the coming months.