Learning how to windsurf and being able to balance on the board is not an easy task for beginners. Learning how to windfoil is even more difficult for a total beginner, as you also need to think about managing your vertical height on the foil while in the air.
To achieve sustained flights, it demands good balance and coordination of your body. You must constantly adjust your position on the board and manage shifting your weight between your back foot and your front foot.
By strengthening your core and leg muscles and improving your balance, you can have better control over your board. Here are 7 tips and products I use to improve my overall balance off-water. Perfect for days when the weather doesn't allow you to get out on the water!
1. Indo Board Balance Trainer
Did you know that the Indo Board was originally developed as an indoor surfing trainer? It provides balance training and core exercises to help beginner surfers, but also helps to provide advanced surfers an opportunity to perform surf workouts and advanced surf exercises anytime.
Before buying the Indo Board, I first made my own DIY balance board by using a rigid wood board and a PVC pipe coated with duct tape. While it worked ok, after a month or so I finally upgraded to the original Indo Board, which has a much better rubber roller and a nicer finish. It was absolutely worth the extra money!
---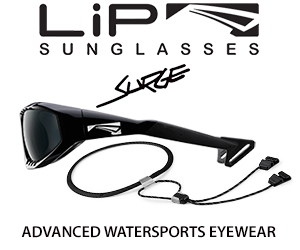 Sunglasses designed for watersports!
Use code WINDFOIL-NATION at checkout for 5% off.
Claim Discount
---
There are many ways to use the Indo balance board to improve strength, balance, and core strength which makes it the perfect off-water trainer for any water sports.
2. Slacklining
The slackline has so many health benefits and is very fun at the same time: it's ideal to improve core strength and burn calories, improve concentration and mental focus, toning of the lower body when simply balancing and walking in a straight line, and toning of the upper body when performing certain tricks.
Bouncing, jumping, sitting down, and more advanced 360s and flips later on:
Slacklining offers several other benefits: It's a relatively cheap investment, and easy to carry with you anywhere. Not to mention, there is a big social benefit, for example, it's really easy to make new friends when you set up the slackline in a public park.
---
The ultimate board protector that doesn't get in the way.
View Today's Price
---
3. One Wheel
I am a former skateboarder, but still stay up-to-date about new trends around skateboarding even if I'm not skateboarding that much anymore. Electric skateboards have been around for a while, but huge boards and heavy batteries were a huge drawback.
I discovered OneWheel recently on social media where it got very good reviews. The American brand has developed an electric skateboard with a neat design, small size, and light battery pack, making it easy to carry anywhere. OneWheels are unique light electric vehicles, without remote control, that is as close an experience to snowboarding or surfing as you will have on dry land.
The battery holds for 19 to 29 km, depending on speed and terrain, and it takes only 1 to 2 hours to recharge completely.
There are 2 versions available, the Pint, which is a limited edition with great value for money, and the XR which is the flagship of the brand, with best performance.
4. Efoil Board
The E-foil combines the joy of being above the water with a good balance exercise. However, prices are still excessive pretty expensive so you may want to find a place to rent one first.
An efoil is pretty similar to surffoiling, but instead of relying on waves and the energy of the ocean, there's a propeller on the foil that's powered by a battery in the board.
Several producers have launched or are about to launch, and competition for E-Foils will hopefully drive prices down after a while. Some of the big brands I'm aware of are Whimsifoil, Liftfoil, Takuma Concept, Okarbon, Hoverstar, Vefoil, and Fliteboard.
5. Inflatable Wind Stand Up Paddle
You have probably heard of inflatable SUP boards before, but did you know that you can also buy inflatable WindSUP boards? These are inflatable SUP boards with a mast track that enables you to put a rig on it.
I've never been fond of running, so for me, it's the perfect cardio training exercise and it lets me spend some time on the water as well. During the weekend I often take my kids to the beach and we all have a great time on the board.
Best of all, it folds up small enough to fit in a backpack and it's easy to carry to any destination. Take your SUP, a paddle or a rig, and you are ready to go. I also have a rechargeable electric pump which pumps my board to 20 psi in less than 5 minutes, as I found manual pumping exhausting!
6. Snowkiting/Snow Winging
I started to windsurf in the 90's and switched to kitesurfing in 2005, like many other windsurfers. I finally came back to my first love in 2017, when windsurf hydrofoils became available.
Living in Norway is not the perfect place for windfoiling, as we only have decent temperatures from April to November. On the other side, I'm lucky enough to live in a snowkite paradise, where every field, frozen lake or mountain plateau turns into a perfect playground for snowkiting.
Snowkiting is a combination of speed, adrenaline and fun and I can only recommend to give it a try if you have the opportunity. The only thing you need is a wide, open space, preferably without trees or power lines (!), a pair of skis or a snowboard, and a safe kite.
I use the Flysurfer Peak 4, which is an agile and powerful kite. It's ultralight and fly with only 3 knots of wind (8m2). It's a single-skin foil kite with progressive depower, direct steering, high stability and amazing power per m2. The PEAK4 is for me the perfect touring kite at an affordable price compared to many other foil kites.
Snow winging is a similar way to enjoy the snow without a mountain. Instead of a kite, you can use an inflatable wing just like the ones you can take on the water!
7. Yoga Cards
Yoga and meditation are trendy right now, and there are good reasons for that. Yoga helps you to better understand and control your body and your mind, improve your core strength, your balance, and your concentration. It is also a perfect activity to relax after a long day at work.
I didn't have access to yoga courses near my home, I started doing yoga by following some YouTube channels. While it's a good way to start, I often spend more time scrolling through the jungle of yoga channels of variable qualities than in actually practicing yoga.
That was until I found this simple but clever tool: Yoga Cards. You just shuffle the deck and create your own workout. There is even an app with video instructions to show you the different poses.
I hope this list of activities will inspire you to find new ways to train and improve your foiling skills.