Windsurfing was once one of the world's most popular water sports. Also known as boardsailing, windsurfing is a combination of surfing and sailing that is performed aboard a vessel called a sailboard.
A windsurfer uses the sail on the sailboard to catch wind and gain speed. Windsurfing remains popular in some parts of the world, and the equipment has advanced greatly over the years.
The History of Windsurfing
Windsurfing dates back to the late 1940s. Sidney Newman Darby is widely recognized as the inventor of windsurfing. He created the first sailboard in 1948 with a wooden board and handheld sail that he used to windsurf around the Chesapeake Bay. Darby didn't have sufficient funding to patent his design. 
Another early windsurfer was Peter Chilvers of the U.K. He was spotted cruising along the water's surface off the shores of Hayling Island, Hampshire, in 1958. His surfing vessel combined the use of a large board and a sail. 
Surfer Hoyle Schweitzer and sailor Jim Drake, both from California, patented the first sailboard in 1968. This premier sailboard was known as the "Windsurfer," and it featured a sail that was attached to the board with a universal joint. Hoyle Schweitzer started producing sailboards for sale in the early '70s. Popularity rose, and the sport spread around the world from there. 
---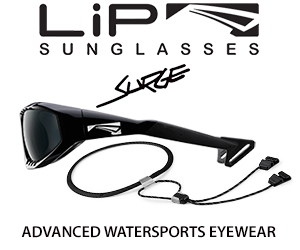 Sunglasses designed for watersports!
Use code WINDFOIL-NATION at checkout for 5% off.
Claim Discount
---
The Windsurfer
The Windsurfer was the sailboard that started the windsurfing craze, which spread across North America and into Europe, where it remains an extremely popular water sport today. 
The Windsurfer was 12 feet long and weighed around 60 pounds. The boards were made of polyethylene instead of wood. The Windsurfer began making appearances at boat shows in the early 1970s, but consumers remained skeptical.
The Rise of Windsurfing
Windsurfing gained popularity as Schweitzer and his wife began mass-producing the boards in 1970. The sport gained massive popularity in Europe, where it was said that nearly every home near the water had a sailboard.
The first world championship for windsurfing was held in 1973, and windsurfing became an Olympic sport in 1984. Women's windsurfing entered the Olympics in 1992.
---
The ultimate board protector that doesn't get in the way.
View Today's Price
---
The 1980s and early 1990s were the sport's most popular years, and were followed by several years of declining interest. Windsurfing became less popular in the mid to late 1990s, when shortboards became more popular than longboards in the surfing industry. 
Windsurfing is now experiencing a resurgence in popularity, as equipment makes groundbreaking advancements. Lighter boards, more technical sales, and affordable equipment are contributing to the recent comeback. 
The Components of a Windsurfing Board
Modern windsurfing boards are drastically lighter than early models introduced by Darby and Schweitzer. Boards now weigh between 15 and 40 pounds and range from 8 to 12.5 feet. Longer boards that are more than 10 feet long typically have a keel and a skeg. Shorter boards do not have a keel but possess a skeg. 
The sail and all the parts that connect the sail to the board are known as the rig. Sails vary in size based on the type of windsurfing you want to do as well as the conditions in which you usually windsurf. The rig includes the mast, mast base, and a double boom. The mast is connected to the sailboard through a base that, similar to Schweitzer's early model, features a universal joint. This allows the mast to swivel 360 degrees. 
The type of windsurfing you want to do will play a major role in the board size and sail you choose. Common types of windsurfing include speed racing, slalom, freestyle, and wave windsurfing. Speed and wave windsurfers generally prefer smaller and lighter boards, while heavier, longer boards are geared toward beginners and some freestyle users. 
Sails are chosen based on the wind speed in which you plan to use them. The three types of sails are camber-induced sails, soft sails, and raft sails. Smaller sails are used in heavy winds while larger sails are used in lighter winds, because they have more surface area. Many avid windsurfers possess numerous sails to be used in a variety of wind conditions.
What Is the Aim of Windsurfing?
The goal of windsurfing for some is competition and for others, it is sheer enjoyment. You can race or just sail around for fun "freeriding". Windsurfing is a combination of surfing and sailing, so it attracts individuals interested in either or both sports.
Windsurfing is an action sport that is also popular among individuals who enjoy sports like snowboarding, skiing, and skateboarding. Your goal in windsurfing may be to gain speed while another person's may be to master tricks or simply enjoy exercising on the water. 
Why Do People Like Windsurfing?
Windsurfing is popular for many reasons. It is a sport that can be enjoyed on most large bodies of water, from harbors and lakes to estuaries and the ocean. Windsurfing doesn't require swell like traditional surfing, so it is a fun alternative for surfers when the waves are flat. 
Others like windsurfing as a form of exercise, as it requires balance, strength, and agility. The sailing portion of windsurfing also requires a number of skills and tactics to best harness the power of the wind. Windsurfing is a sport that requires body and mind, making it both exciting and challenging. 
What Are the Challenges of Windsurfing?
Windsurfing is a sport that requires physical strength and mental skill. The combination of sailing and surfing at the same time can prevent a number of challenges. Varying winds and weather conditions can present a variety of challenges.
Windsurfing is also known as a challenging sport, but that's much of what makes it so much fun once you begin to master it. Simply sailing atop the board is generally easy and can be learned in a single day. However, learning to windsurf on waves, race, or plane can take months and even years to perfect. Advancements in equipment have made windsurfing more user-friendly than ever before. 
What Is the Future of Windsurfing?
The future of windsurfing looked grim in the late 1990s, but the sport is making a major comeback in the form of windfoiling.
Windsurfing was recently removed from the Olympics, with the sport of windfoiling taking its place in the 2024 Olympic Games in Paris, France.
Windfoiling is similar to windsurfing, but it involves the use of a sail attached to a hydrofoil board. The hydrofoil lifts the board out of the water, allowing windsurfers to gain more speed in light winds. Windfoiling is gaining popularity because it can be enjoyed on days with little wind. 
Advancements in Windsurfing Equipment
Windsurfing equipment has advanced greatly over the years. This has made entering the sport easier than ever before. Boards are now lighter, more stable, and easier to steer. Similarly, sails are more compact and easier to maneuver. 
Boards and sails are also now made in a variety of constructions and sizes to suit the type of windsurfing you want to do and the conditions in which you plan to windsurf. 
One of the most recent advancements in windsurfing is the inflatable windsurfing board, which is a portable and affordable option for those who simply want to spend more time on the water. These boards can be inflated and deflated in seconds, so you can enjoy windsurfing anytime and on any large body of water. 
Is Windsurfing Easy?
The difficulty of windsurfing is based on the type of windsurfing you want to do. It can be a relatively easy sport if you simply wish to sail around a body of water and return to shore. However, windsurfing becomes more difficult as you attempt maneuvers, gain speed, or compete. You can constantly push your limits and advance your skills in windsurfing, which is much of what makes it such and enjoyable water sport. 
Windsurfing can be challenging to learn, especially if you're not familiar with the use of a sail. Beginners can greatly benefit from the help of a coach or attending windsurf school. An instructor will help you master the fundamentals of the sport, so you have a better foundation for advancing your skills on your own. 
Is Windsurfing Expensive?
Windsurfing can be an expensive sport upfront, but once you have a sailboard, and it is equipped with a rig, you can enjoy the sport for years without investing more money. However, as you become a more avid windsurfer, you may want to purchase multiple sails or even multiple boards for varying conditions.
Entry-Level Windsurfing Costs
Purchasing an entry-level windsurfing package can be ideal for beginners. These packages come with everything you need to get started. The boards tend to be stable and easier to maneuver than some more advanced options. Beginner sails tend to be compact and easy to use, helping you advance more quickly. You may find that you enjoy your entry-level package for years to come. 
Entry-level windsurfing packages range from around $1,700 to $2,700. Packages come with the board and the rig, so you're ready to hit the water as soon as it arrives. The lower end of the price range usually includes a durable board that's easy to ride, while higher-end beginner packages include boards that are constructed from state-of-the-art materials, such as the new Starlite construction, HRS construction, and more.
Is Windsurfing Dangerous?
Windsurfing is not considered a dangerous sport. However, it does involve heavy equipment, and weather conditions can always change rapidly. Windsurfing on big waves is also more dangerous than windsurfing on flat water. 
The most common injuries associated with windsurfing are skin damage due to bruises or cuts. Direct impact injuries can also be caused by colliding with the boom or the board. Muscle injuries may also occur, as windsurfing can be a strenuous sport that requires physical strength and agility. 
Anyone interested in windsurfing should have a basic level of fitness before beginning. Unfit individuals are more likely to become injured due to a lack of flexibility, poor stamina, and more. It is also important to maintain your equipment regularly. A damaged universal joint, worn ropes, a damaged sail, or loose fittings can all lead to equipment failure and injury. 
It is essential to wear a life jacket while windsurfing and to always windsurf within your limits. Check the weather forecast to ensure the winds are not too strong or the waves are not too big for your skill level. A helmet, sunscreen, and wetsuit are also recommended protective equipment. 
In general, the risk of injury when windsurfing as compared to other action sports is considered low. 
Interesting Facts About Windsurfing
Windsurfing is an interesting sport with a rich history. The following are some of our favorite, little-known facts about windsurfing. 
Windsurfers can move faster along the water's surface than water skiers. Recreational windsurfers tend to surf at speeds of 25mph to 35mph. 
Tandem windsurfing boards are designed to hold two people, so you can windsurf alongside your friend or instructor. 
Windsurf sails are manufactured for kids as young as 3 years old. Special kids' sails are as small as 1 meter tall. 
Maui, Hawaii is considered the windsurfing capital of the world. It is one of the most popular windsurfing destinations.