Are we seeing a windsurf-revolution these days? Foil windsurfing is on everyone's lips, whether it's positive comments or not – it's provacative! It gets the people going!
Is foil windsurfing (also known as windfoiling) going to succeed and convert every windsurfer to this new style of windsurfing? In other words, will windsurf foiling be the future of windsurfing?
Foil Windsurfing – A New Era
For those of you who are old enough, remember when funboarding was introduced in the 80's? At that time windsurfing was a family activity, easily accessible for most people, and funboarding was seen as more extreme and difficult.
Funboarding had many detractors, but the fact is that the brands that were pushing to develop funboarding were able to make it happen. Funboarding back then is now what we call windsurfing today.
The same thing is about to happen today with foiling. We hear quite a lot of negative comments coming from windsurfers about windfoiling, which is normal because let's face the fact that: People are creatures of habit and are skeptical of evolution and change.
---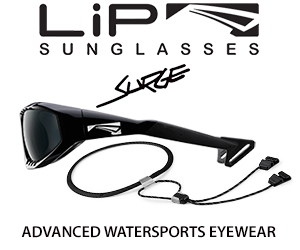 Sunglasses designed for watersports!
Use code WINDFOIL-NATION at checkout for 5% off.
Claim Discount
---
Critics have many arguments about the foil:
Gear is too expensive
You need to upgrade all your windsurf gear
It will never replace sailing at 20 knots in waves
It's boring, not enough movement
It's so static that you don't train anymore
You don't get the exiting "tac, tac, tac" noise of your windsurf board planning on the water
You can't surf in shallow waters
Potential cuts from the foil due to its sharp edges
Some of these criticisms are valid. The gear can make it expensive to get started and it may not be suitable for shallow areas. Much of these criticisms come down to opinion which you'll have to form for yourself.
Why Windfoiling is the Future of Windsurfing
I believe that windsurf foiling is here to stay and will gain more and more popularity in the years to come, recruiting new fans to the sport. Here are the top 7 reasons why I believe foil windsurfing is a game-changer for the windsurfing sport:
1. Robby Naish is Invested in Windfoiling
Remember: Naish was already involved when funboarding took off and he was involved early on in the development of kiteboarding. At that the beginning, windsurfers claimed that "Naish had sold his soul to the devil" when entering the kiteboarding world.
---
The ultimate board protector that doesn't get in the way.
View Today's Price
---
But Naish is a visionary leader, he knew exactly what he was doing. He had the gut feeling that kiteboarding was more than just a fad and he was of course, right again.
Having Naish involved in windfoiling is the confirmation that windsurf foiling isn't a fad that will fade away, but a branch of windsurfing that will be developed further and hopefully be more financially accessible to everybody in the future.
2. Windfoiling will be a new Olympic discipline in 2024
Windsurfing was scheduled to be replaced by kitesurfing in November 2011 for the 2016 Olympic Games, but the decision was reversed in 2012 to left windsurfing remain.
The reason kitesurfing replaced windsurfing is that in many places, fewer people were windsurfing and the sport was declining while kitesurfing was a sport on the rise – although globally, this was not the case for fleet racing.
Just announced in 2020, foiling has become the official Olympic windsurfing platform for the future. The IQFoil will replace the Neilpryde RS:X as the official Olympic equipment for men and women's windsurfers for Paris 2024!
This is great, as it will attract more people into windsurfing and grow the sport even further.
Read more about the IQ Foil Class and the Olympic equipment here.
​3. Many kiteboard brands are making their comeback in windfoiling
We have already seen this happen before when several windsurfing brands started investing in kitesurfing, as kitesurfing was growing while windsurfing was collapsing.
All the windfoiling mania has created a similar effect, attracting kite brands back to windsurfing: Slingshot, Zeeko, Horue, Alpinefoil… and many other kitefoil brands are now trying to adapt their knowledge about kitefoiling to windfoiling.
Slingshot seems to be very serious about it. They even launched the Slingshot foil academy, to teach people how to foil. This shows that they are passionate about the sport, and in particular about the freeride/freestyle aspect of it.
Read the interview with Wyatt Miller of Slingshot, explaining his vision and how freestyle windfoiling is becoming a reality.
​4. Antoine Albeau, 25 time Windsurf World Champion, is fully committed to windfoiling
Antoine has competed in most windsurf disciplines and is a 25 time Windsurf World Champion. Antoine started windfoiling more than 15 years ago already and today, we can often see him flying on a foil in his social media feed.
This has of course a strong influence on the average windsurfer, and he is probably one of the best ambassador the discipline may have.
5. Many other water sports have already adopted foiling – it's a mature technology
Foiling moth, kitefoiling, and even America's Cup sailing boats are now on foils. The reason is clear: more speed with less drag in the water.
Kitefoiling has been a huge success so far, and the number of kitefoilers continues to grow. Windsurfing foil is therefore the next logical move for the growth of the sport as well.
To increase windsurf speed, something has to change radically. The introduction of hydrofoils could be what pushes the sport to speeds never imagined.
These speedy foils will probably be much smaller than today's hydrofoils in order to avoid having too much drag and lift. Let's see what the future will bring when it comes to speed windfoiling!
Read also: How fast can you fly on a windsurf foil?
A spokesperson of Starboard confirmed recently in a forum: "Our objective is to not only have a foil which makes you fly slowly over the water, we are trying to make it fast. We don't know how long it will take, but it's the plan".
6. Good windsurfing foils are available for under €1000
Several brands like Neilpryde, Mantafoils and Starboard have introduced alloy windfoils with prices well under €1000. Those foils are slightly heavier and less performant than 100% carbon hydrofoils, but they offer very good sensations and a very good alternative for beginners who want to learn how to windfoil.
Aluminum foils are perfect for beginners who want to try foiling without investing €2000 in a carbon foil. The price of windsurfing foils will hopefully continue to decrease in the coming years when manufacturers can increase production.
Also, the more foils that are produced and sold, the bigger the 2nd hand market is!
Dedicated foil windsurfing boards and foil windsurfing sails have been developed by several brands. While these boards and sails make windfoiling optimal and easier to learn on, you can also use a normal windsurf board and a classic rig as well. Make sure that the fin box is reinforced though, or change your fin box.
Many recent boards are "foil ready", i.e. their fin boxes are reinforced deep tuttle boxes to cope with the extreme forces that have been created by the hydrofoil. Several new foils are now compatible with powerbox fin boxes and come with load plates to make the connection stronger.
A good windfoil board should have enough volume (at least 120 L) and be relatively wide (about 70-80 cm). There is now a large selection of windfoil boards to choose from. Please take a look at this article about the 4 main windfoiling styles, which will help you find the right board for you.
7. An Honest Game-Changer For Water Days
Windfoiling has become a real game-changer for us windsurfers. Since you only need light winds to get going on the foil, you can find your new "local spot".
Your local lake was probably not a good spot for windsurfing, but it can easily become a perfect playground for windfoiling.
No need to drive one hour to get decent windsurfing conditions when you've got a foil. You can now come back from work, have some family time, and have a couple of hours on the water before the night. Happy wife, happy dad, happy life.
The Windfoil Revolution Has Begun
We can debate this topic for a long time – is windfoiling going to revolutionize windsurfing, become a branch of the sport ,or disappear in the long run?
Personally, I believe that foil windsurfing, in general, will become the norm in light winds, replacing formula windsurfing. As the gear becomes more affordable and widely available, more and more people will become enthusiasts about the discipline.
Who doesn't want fly half a meter above the water at 20+ knots?
In the battle of windfoiling vs windsurfing, the advantages of the foil are undeniable:
And if there is really no wind at all, read this article: 6 awesome things to do when you are not windsurfing!
Double your days out on the water
Stop sitting on the beach and wondering if there is enough wind for your 9m2 sail – instead, get out there and have fun!
Impress everybody when they see you sailing full speed with only 10 knots of wind and a small sail!
Time will tell, but you know what I'm betting on.